You are here:
Learn with Kevin
Learn with Kevin
Early language stories developed by a parent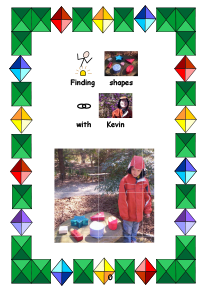 They use photographs to illustrate the concepts. Each pack has a story in two sizes: one to print on full-size sheets of paper, and one to cut to make small personal reading books. Each story is accompanied by two or more activities.
These are great for using at home, and will inspire many people to make their own adaptations with their own personalised photographs.
---
Download
Kevin Colour

PDF
£4
Kevin Prepositions

PDF
£4
Kevin Shapes

PDF
£4
Contents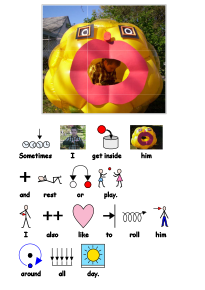 Colour Hungry Mel
Mel the big yellow ball likes to eat colours.

Activities:
Colour rhyme matching
What colour is this
---
Finding Shapes with Kevin
Kevin goes out and about to find different shaped hidden boxes. See what he finds inside each one.

Activities:
Shapes lotto, matching photos and symbols
Shape sequence – pictures from the story
What's in the box
---
Kevin's Ball
Kevin has a huge yellow ball that he can climb inside.
In this story he is in different places: in, on beside etc.
Activities:
Where is Kevin: 8 sheets with a picture and three preposition symbols to choose from
Picture word cards to match the symbols and the photos.
Play snap, pairs games and then try using the symbols in other situations. Great for interactive games with a child – giving them instructions, or asking questions.