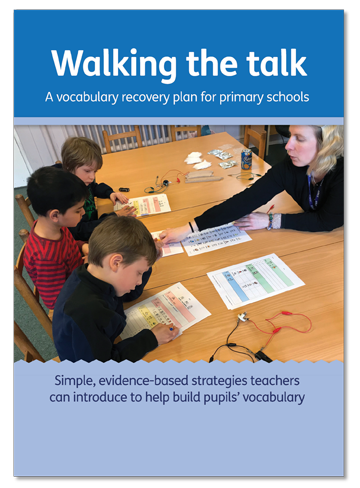 Vocabulary Recovery Plan
Simple, evidence-based strategies you can introduce to help build pupils' vocabulary in primary schools.
What's Included?
To help schools tackle the 'word gap', with expert input from experienced teachers, we have produced a Vocabulary Recovery Plan for Schools.
Inside, you'll discover key strategies to enhance pupils' vocabulary, such as:

1. How to ensure pupils with limited vocabulary are ready to learn

2. Simple strategies to develop tier 2 and tier 3 vocabulary for children with delayed language skills

3. Using visuals to help pupils express emotions and manage behaviour

4. Building vocabulary to help children deal with class or school transitions.
The plan will also cover why, following the pandemic, building vocabulary is critical for every child – not just for those with delayed language – with tips on how to implement simple vocabulary development schemes across the school.
"This plan will give teachers effective strategies to fill the gaps in language that the pandemic has widened."

Rose Brooks, Language and Literacy Consultant