Ancient Greeks - Environments
Information, comprehension and writing activities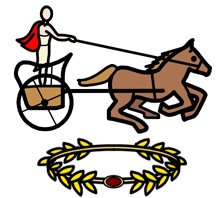 The Ancient Greeks material is divided into 5 topics. For each topic, there is a talking information environment where sentences can be built up in the document, spoken as they are inserted, and eventually printed. This is followed by two comprehension activities, a structured writing activity and a word bank for students writing from the computer.
Available in a symbolised format or text only format.
---
Download
Ancient Greeks - Symbols

SymWriter 2
Free
Ancient Greeks - Text Only

SymWriter 2
Free

Contents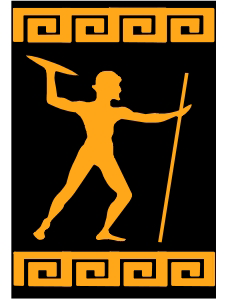 There are five topics:
Greeks
Greek Battles
Greek Discoveries
Greek Leisure
Greek Olympics
Each topic has five activities
Listen and Copy
Questions
True or False
Writing
Vocabulary
---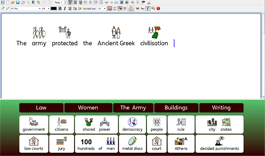 Greeks
These activities cover an overview of the Ancient Greeks which include information about key dates and people, important locations, law and order and famous buildings.
---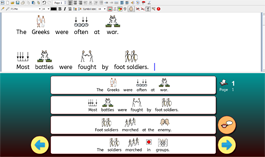 Greek Battles
Click on the green 'Question/ button to hear a question, which is written to the document, and then choose the answer from the sentences below. There may be more than one appropriate sentence. More able writers could combine this with writing from the keyboard.
---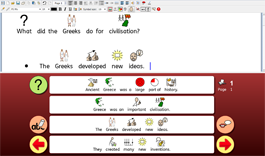 Greek Discoveries
Test the comprehension of the information and check reading ability in deciding whether each sentence is true or false.
---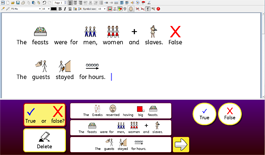 Greek Leisure
These activities look at the leisure pursuits of the Ancient Greeks: feasts, theatre, festivals, stories and art.
---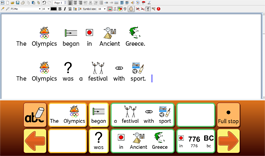 Greek Olympics
These activities look at the origin of the Olympics in Ancient Greece and the importance of the event, including information on: dates, gods and events.