Egyptians - Environments
Information, comprehension and writing activities on the Egyptians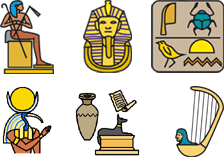 The Egyptians material is divided into 5 topics. For each topic there is a talking information environment, where the sentences are built up in the document, spoken and can then be printed. This is followed by two comprehension activities, a structured writing activity and a word bank for students writing from the computer.
Available in a symbolised format or text only format.
---
Download
Egyptians - Symbols

SymWriter 2
Free
Egyptians - Text Only

SymWriter 2
Free

Contents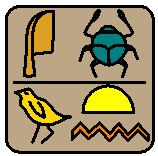 There are five topics:
The Egyptians
Egyptian Gods
Egyptian Religion
Egyptian Pyramids
Egyptian Hieroglyphics
Each topic has five activities
---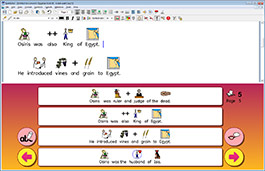 Listen and Copy
Each page of text has 4 sentences. As the student clicks on each sentence in turn it is spoken and then added to the document. There is a Repeat Speech button to hear it again and a delete button to remove an entire line in case something was selected in error.
The final text can be printed (and it works well in black and white as well as colour). Another option is to use this as an information source as one might use a web page. In this case the users can browse through the pages and copy just the sentences they need.
---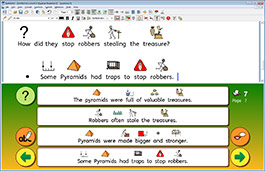 Questions
Click on the green 'Question' button to hear a question, which is written to the document, and then choose the answer from the sentences below. There may be more than one appropriate sentence. More able writers could combine this with writing from the keyboard.
---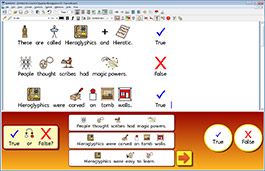 True or False
Test the comprehension of the information and check reading ability in deciding whether each sentence is true or false.
---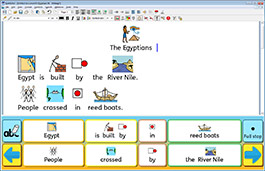 Writing
Write sentences about the topic using these structured writing grids. There is content for writing two or three simple sentences from each grid. The words or phrases have coloured borders to help with the sentence syntax. More adventurous writers may add a few words from other grids or from the keyboard.
---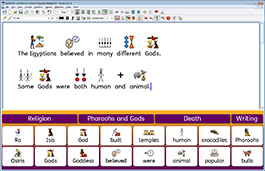 Vocabulary
This word bank provides grids of words organised by topic. The aim is to help writers in vocabulary selection and to give suggestions for free writing on the topic. The Environments are set up for symbols to appear in the document, but by changing the document to Text Mode (by pressing F10) or clicking on the Symbols on/off icon) the document will appear in standard text, with the symbols in the grid for the vocabulary support.