Friction - Environments
Three activities about friction for students in Year 6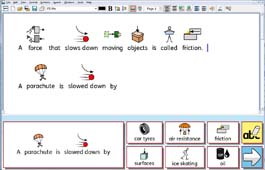 A suite of three activities comprising a quiz, a vocabulary word-bank and a document writing activity for year 6 students learning about the science curriculum unit on forces.
---
Download
Friction Quiz

SymWriter 2
Free
Friction Text

SymWriter 2
Free
Friction Vocabulary

SymWriter 2
Free

Contents
---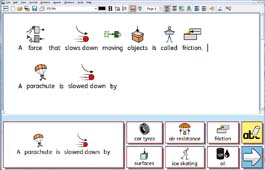 Friction Quiz
Six sentences to be completed based on information that can be found in the Friction Text activity.
---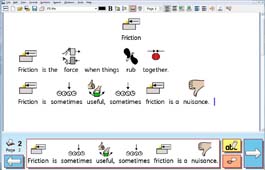 Friction Text
Build up a document with information about friction. Each sentence is displayed one grid at a time and spoken when sent to the document. This set of 23 grids could also be used as a reference source for other written work.
---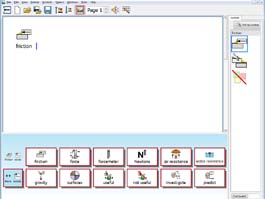 Friction Vocabulary
Two grids of friction related vocabulary to use as a word bank when writing from the keyboard