You are here:
Letter Spell - Animals
Letter Spell - Animals
How many words can you make from these letters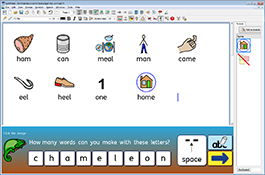 A suite of 10 activities, each with a 9 letter animal. The task is to find as many valid words as possible. Most words will be supported by a symbol. Misspelled words can be highlighted by the spell checker. A good activity to reinforce curriculum work on different animals, or for general spelling.
---
Download
Letter Spell - Animals

SymWriter 2
Free

Contents
Each activity contains one of the following animal words:
Albatross
Bandicoot
Chameleon
Cassowary
Cormorant
Crocodile
Elephants
Jellyfish
Orangutan
Porcupine
---
Each nine letter animal word is contained in its own activity. The task is to see how many new words can be made from the animal word. The Symbol Viewer shows alternative symbols for some of the words which may clarify the meaning.