You are here:
Phonics- Environments
Phonics - Environments
Vowel Phoneme spelling activities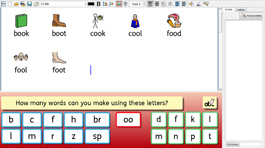 A range of activities to support the teaching and learning of phonics. These activities focus on the vowel phonemes, the corresponding graphemes and alternative spelling patterns. This particular set of activities link to the vowel phonemes and graphemes that are taught within Letters and Sounds Phase 3 and Phase 5.
---
Download
Phonics - Environments

SymWriter 2
Free

Contents
---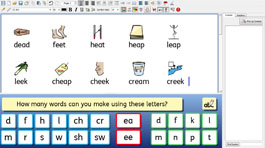 Set 1: Word Building
How many words can you make from the given letters, with particular vowel blends.
Activities are:
spelling ee ea
spelling o_e
spelling oa
spelling oo
The majority of valid words will show a symbol, but words that are not recognised by the spell checker are highlighted. The symbol chooser panel on the right will show any alternative symbols or meanings, giving the student the opportunity to select the most appropriate.
---
Set 2: Choose the correct spelling
For each symbol there is one correctly spelt word. Invalid words are shown in red and are highlighted by the spell checker. Incorrect spellings for that image are shown in red, correct choices are in black.
The five activities use the following vowel alternatives:
choosing ai-ay-a_e
choosing ee ea
choosing oa-oe-ow
choosing oo-ue-ew
choosing ie-igh-y