You are here:
SymWriter Sentences
SymWriter Sentences
A structured suite of 32 activities on sentence building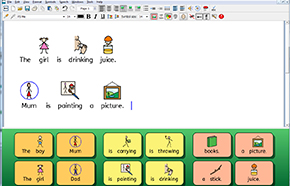 A structured set of 32 sentence building activities starting with noun verb combinations, using different tenses, adding adjectives and then subject verb object.  The set ends with a series of activities turning sentences into questions. Each sentence is spoken on completion.
---
Download
SymWriter Sentences

SymWriter 2
Free

Contents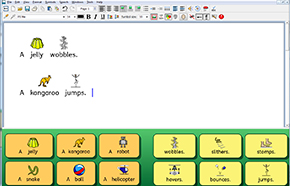 The first part of the set steps through sentence building starting with simple noun + verb and developing to noun, verb object and then adding two adjective with 'and'.
For each of the main numbered activities there is a second at the same level using different vocabulary, some of which may allow the writer to make up some silly sentences as well as the more predictable ones.
The second set of question activities uses a range of vocabulary and tenses.
---
Teachers may use these activities to introduce and practice using the language of the grammar where appropriate or for other students who may not be ready for that, to have exposure to these language structures.
Why not copy some of these files and edit them with vocabulary of particular interest to individuals or add photos of people so the subjects are familiar.