You are here:
Food Shopping
Food Shopping
Create symbol supported shopping lists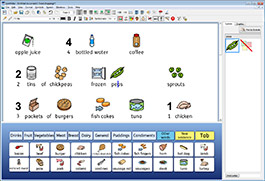 A single activity with grids featuring words associated with different food types to help create a symbolised shopping list.
---
Download
Food Shopping

SymWriter 2
Free

Contents
This activity contains 10 grids of food and shopping related words to use to build up a shopping list. The grid groups are:
Drinks
Fruit
Vegetables
Meat
Bread
Dairy
General
Puddings
Condiments
Other words

---

Personalising the content
You may want to personalise the activity by changing the foods to your favourites, or even adding photos of particular brands.
Click on the 'Quick edit' button edit the environment. Using 'Quick edit' allows you to make a temporary change while you are using the activity. To make the change more permanent choose 'Design Mode' from the 'Tools menu'. You can then use Save As to keep your changes.
---