You are here:
Goldilocks Environments
Goldilocks Environments
SymWriter activities for this traditional story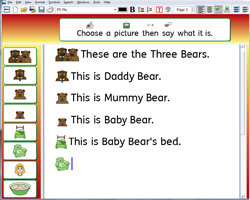 A set of SymWriter activities for the story of Goldilocks. Including, choose the text, match picture and words, sequence the story and a wordbank.
These activities are designed to compliment the Goldilocks Pack.
---
Download
Goldilocks Environments

SymWriter 2
Free

Contents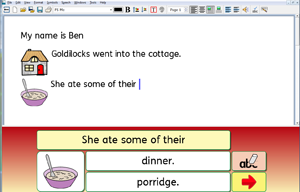 Goldilocks - choose text sentences
Re-tell the story by putting together the10  text sentence halves. The pictures can also be added to illustrate each line. The completed sentences are not spoken until the 'Next' arrow is clicked. Use the time to encourage the student to read the sentence aloud. The delete key allows them to start that line again.
Goldilocks - match picture and word
Picture and word matching. Choose a picture and then choose what it is. A complete sentence is sent to the document and spoken.
Goldilocks - sequence story symbols
Goldilocks - sequence story text
Separate Symbols and Text activities to sequence the story.  Each grid deals with one of the stages of the story. Use the words first, second and third. The text version also uses 'Then' and 'Next'
Goldilocks - write sentences
Reconstruct the story using a sequence of structured writing grids.
Goldilocks - word bank
A text level activity to re-tell the story. Sentences are spoken when the full stop is added.