You are here:
5 Basic Tips
5 Basic Tips
Brief guidelines for creating effective symbol content
It is important to ensure that the symbols you choose accurately represent what it is that you want to say. Here are a few helpful hints to help get your message across.
---
1. Meaning
Sometimes the differences in meaning that a word can have are very subtle, but choosing an inappropriate symbol can make them very obvious.

---
2. Replacing and combining text
Replacing a word beneath a symbol is sometimes necessary to convey the correct message. Combining words beneath a single, more 'transparent' symbol can make the meaning of the sentence much more obvious.
In Widgit symbol products, the word beneath a symbol can be retexted by highlighting the word beneath the symbol you wish to change, and clicking on the retext button.

---
3. Consistency
One of the most important elements of good symbol support is consistency. Once you have chosen an appropriate symbol to effectively illustrate a concept, it is best to continue to use that same symbol every time it is used.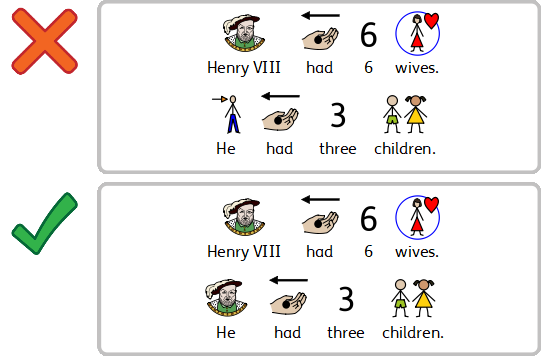 ---
4. Repetition
Repetition is a valuable tool in simplifying content for symbol readers. Repeating phrases and structures helps keep structure simple and reinforces the theme of the content.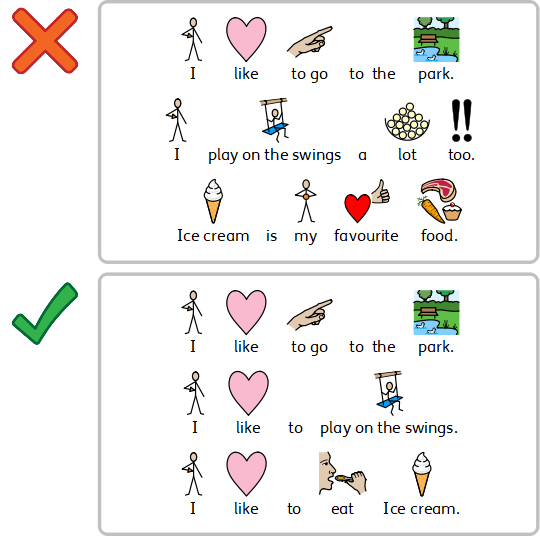 ---
5. Layout and design
The layout of your symbolised content plays an important role in how accessible and easy to understand it will be to a symbol reader. There are three basic rules to bear in mind when symbolising content which will have a significant impact:
Use punctuation carefully
Limit sentences to eight symbols
Write one sentence per line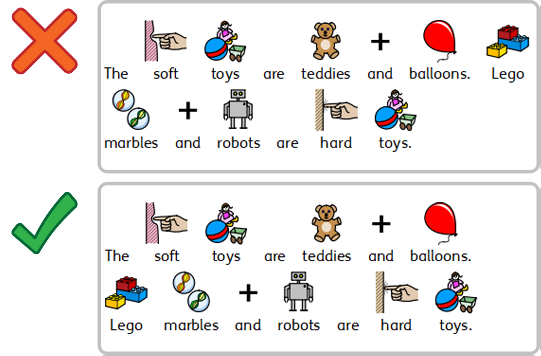 ---