You are here:
Checking your content
Guide to good symbol content
Checking your content
---
Although it may seem obvious, taking time to check over your work when you are symbolising your content is an extremely valuable part of the symbolising process.
---
Say it aloud
When creating fully symbolised content or a symbol summary, a great way of checking your content over is to read your text aloud to yourself.
There are two stages at which it is a particularly good idea to check your content over by reading it aloud:
1. When you have written your text to be symbolised
Firstly, you will need to ensure that the text you have written is as plain and simple as possible. When you speak a sentence, it is much easier to do so if it is straightforward. If you stumble over any of the words as you are saying them, it is likely that the text will be difficult to read and you may want to consider revising it.
2. When you have symbolised your content
When you have finished symbolising your text, speaking the words aloud is a very valuable method of ensuring that the words you have chosen sufficiently express what you want to say and that none of the important concepts have been omitted.
---
Review the symbols
It is very important to review the symbols you have chosen and ensure that they illustrate the point you want to make.
Try printing out the symbols without the text, or covering the text with your hand and just look at the symbols. If you are working on-screen with Widgit software, you can temporarily set the text colour to the same colour as the background (e.g. white).
Is the message still clear when you can only see the symbols? Have you used too many abstract symbols that may not be understood by your readers? Are there any important concepts missing from the message?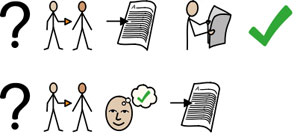 Deciding on the right way to support content with symbols will become easier with experience, as will choosing the right symbols. You can use the checklists at the end of this guide to remind you.
If you need to produce official or specialised symbol-supported content, then you can contact
Widgit's Accessible Design Services
directly to discuss how we can help you.
Widgit Design Services
---
Guide home | Next - Checklist