You are here:
Fully symbolised content
Guide to good symbol content
Fully symbolised content
---
What is fully symbolised content?
If the content you are symbolising is aimed exclusively at symbol readers, you will very probably want to give full symbol support to your text. Full symbolisation involves illustrating every information-carrying word in the content with a symbol.
Where would fully symbolised content be used?
Full symbolisation is definitely appropriate for any content that is aimed exclusively at symbol readers, as it allows them to gain the near 'word for word' understanding, which a brief summary cannot.
It is important to remember that while fully symbolised documents are the most accessible for symbol readers, you will need to write or rewrite text specifically to be symbolised.
Space is another important consideration with a fully symbolised document. A single page of A4 text, when simplified and symbolised, usually takes up to three or four sides of A4.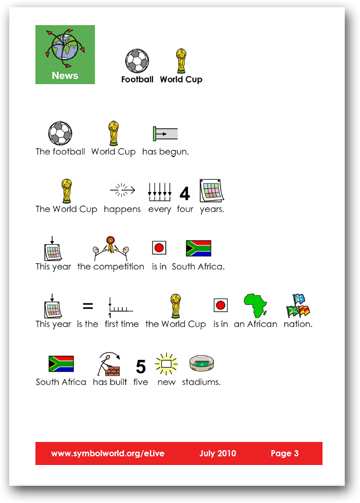 Symbol content on a website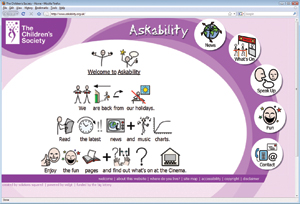 The Children's Society's website, 'Askability' is a fully symbolised website with symbol support added to all of its simply written content. The website was designed especially for symbol users, giving struggling and emerging readers the opportunity to keep up to date with the news and what's going on in their local area without having to ask for help with the text.
Symbol content in surveys

Ofsted have developed a wide range of symbolised surveys to use with their department for looked after children. Full symbol support allows the children to independently respond to Ofsted's questions, without the need for their carers to act as interpreters.
---
Guide home | Next - Creating key symbols