Guide to good symbol content
Repetition
---
Repetition is a valuable tool in simplifying content for symbol readers. Repeating phrases and structures helps keep structure simple and reinforces the theme of the content.
This sentence illustrates a number of concepts and could be too complicated for some readers:
'I like to go to the park and while I am there I like to play on the swings and eat ice cream.'
When symbolising a sentence such as this, it is advisable to break it down into smaller sentences. This allows symbol readers to process the information in more manageable 'chunks' and makes the content significantly easier to understand, without losing any of the meaning.
Using repetition can be an effective way of doing this, such as in this example, where 'I like to' is repeated in every sentence:
'I like to go to the park'
'I like to play on the swings'
'I like to eat ice cream'
Repeating the same phrase every time provides a structure for the reformatted content and reinforces the theme (which in this example is things the writer likes).
Repetition is also an effective means of learning new terms and their corresponding symbols. With regular exposure to the same text and symbol combinations, they will quickly and easily become more familiar and recognisable to the symbol reader.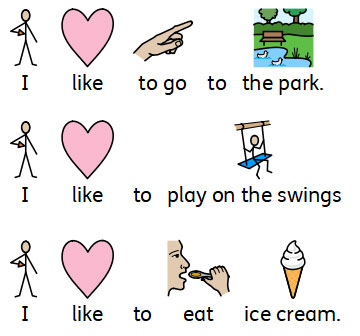 ---
Guide home | Next - Layout and design