You are here:
Widgit Symbol Acknowledgements
Widgit Symbol Acknowledgements
Widgit Symbols are the main language for many of our users; they can only use words or concepts that are represented in our symbol set.
Including your logo or imagery as part of our symbol set gives our community the ability to talk about you and your purpose.
If you would like your logo or imagery to be part of our symbol set, please contact symbols@widgit.com.
You will retain ownership of your logo or imagery and all intellectual property rights in the same, but you will provide us with permission to use your logo or imagery for words and phrases for Widgit Symbol users. We need to format the imagery to a file format that meets the needs of our symbol set. We will only add your imagery to vocabulary that you approve. The symbols are held within our symbol database and used within all current and future Widgit products that use our symbol set.
The full terms on which you provide us with the permissions referred to above will be set out in a letter to you.
---
Current acknowledgements
The Fairtrade Foundation
We thank The Fairtrade Foundation for the use of their logo and mark in the following four symbols:

These symbols were used as part of the Fairtrade Symbol resource pack to support Fairtrade Fortnight. These resources support the teaching of the topic Fairtrade whilst helping to foster the importance of compassion and becoming socially responsible citizens. You can download the free pack here: www.widgit.com/resources/curriculum/cross-curricular/fairtrade.
Every year The Fairtrade Foundation celebrate the amazing work they do to be a leader of life-changing impact for farmers and workers across the world. Find out about Fairtrade Fortnight and more about The Fairtrade Foundation here: www.fairtrade.org.uk.
---
Spread the Happiness Ltd
We thank Spread the Happiness for the use of the Dough Disco Logo as a symbol: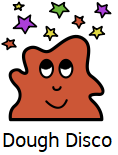 This symbol was used as part of the Autism Support Pack: www.widgit.com/autism. Dough Disco™ is a fine muscle exercise invented to support children struggling to write letters. It helps children and adults to have stronger muscles in their hands to enable them to write effectively.
Why not try Dough Disco by Shonette Bason-Wood? www.spreadthehappiness.co.uk/dough-disco
---
How do I access these symbols?
All symbols are available in Widgit Online and the latest version of InPrint. To get the latest version of InPrint, click here or contact your network administrator.