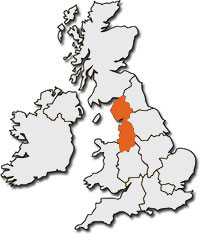 North West
Widgit Centre supports those working with:

children and adults

children only

adults only
| Area: | Blackburn |
| --- | --- |
| Name: | The Speech Bubble |
| Centre Type: | Widgit Centre |
| Info: | We are an independent paediatric Speech and Language Therapy practice and have been working with Nurseries, Schools and Local Authorities across the North West since 2003. We offer, assessment, therapy, programmes, advice and training for those with speech, language and communication needs as well as those supporting and caring for them. |
| Contact: | Imran Ullah-Khan |
| Address: | The Speech Bubble, Business First, Davyfield Road, Blackburn, Lancashire BB1 2QY |
| Tel: | 01254 702574 |
| Email: | imran@thespeechbubble.co.uk |
| Website: | www.thespeechbubble.co.uk |
Area:
Cumbria
Name:
Cumbria Speech and Language Consultancy
Centre Type:
Widgit Centre
Info:


13 years post qualification and Joy's love for enabling communication is as strong as ever. She believes too many children start school with speech, language and communication skills that aren't good enough to enable learning and the development of friendships.

Communication is crucial and early intervention and assessment is essential to support children, families and education providers in meeting the Speech, Language and Communication Needs of our children. Joy strives to train and inspire staff in schools to feel confident to work with the increasing number of children in their classes with needs in a fun, engaging manner.

She provides assessment and intervention within the school setting to help pupils to reach their learning and communication potential.
Contact:
Joy Munro
Address:
10 Whiteclosegate, Carlisle, Cumbria, CA3 0JD
Tel:
07809712413
Email:
joycslc@gmail.com
Website:
www.cslc.uk
Area:
Cumbria
Name:
Communication and Learning Enterprises Limited (CandLE)
Centre Type:
Widgit Centre and Trainer
Info:


CandLE is a UK wide organisation which offers assessments, training and advice in AAC particularly around it's use in the curriculum and increasingly in adult services.
We can provide multi disciplinary assessments and run a three day training course called "Communication and Learning for All" which was written in collaboration with Bolton University.

We work with children and adults and can support people who need help with Motor Planning Training (MPT).
Contact:
Marion Stanton/ Mick Millward
Address:
Suite 107, Ulverston Business Centre, 25 New Market Street, Ulverston, Cumbria, LA12 7LQ
Tel:
01229 585173
Email:
mick@candleaac.com
Website:
www.candleaac.org
| Area: | Cheshire |
| --- | --- |
| Name: | Ashley School |
| Centre Type: | Widgit Centre and Trainer |
| Info: | Ashley School caters for pupils 11-16 years with social communication issues, learning needs and autism. We can offer support and training in the use and development of symbol supported resources. |
| Contact: | Clare Ogburn |
| Address: | Ashley School, Cawfield Avenue, Widnes WA8 7HG |
| Tel: | 0151 4244892 |
| Email: | Clare.Ogburn@ashley.halton.sch.uk |
Area:
Greater Manchester (Wigan, Bury, Bolton), Lancashire
Name:
Woodbridge Trust / Ladywood Outreach service
Centre Type:
Widgit Centre supporting Local Authority Schools
Info:


Ladywood Outreach Service is a service for pupils age 2-19 with cognition and learning needs, speech, language and communication needs, Autistic Spectrum Disorder and Specific Learning Difficulties. We are part of the wider organisation that is Woodbridge Trust and are located in Little Lever near Bolton. We work alongside our mainstream colleagues in all settings in Bolton, supporting learners with additional needs and enabling them to access the curriculum and participate in the wider school life. We also support pupils directly with a variety of interventions including group activities, 1:1 support and facilitating screening tests when appropriate.

One element of our support includes discussing with schools and settings how to make the classroom more inclusive and accessible to learners not only physically with the environment but also through differentiated activities through the graduated response.

Traded offer

In addition to the above core offer and LA work, Ladywood Outreach will offer schools, settings and partner agencies the opportunity to purchase additional support including the following:

Training on the use of visuals to support pupils, utilising Widgit Software
Support to meet the SpLD need (dyslexia, dyscalculia) including dyslexia diagnosis
Irlen Screening and advice for meeting this particular need
Interventions to meet a range of needs on the PLASC areas in the COP as requested by school, with the aim being to train a school based TA to facilitate such work in the future
Training that is bespoke to the settings needs
Support to gain a range of accreditations for example Dyslexia Friendly Schools Status
Support for new SENCOs, both direct support and facilitating school to school support with an experienced SENCO
Facilitation of person centered approaches
Support for schools out of Bolton local authority.

Contact:
Cate Marsden, Tracey Sutherland
Address:
Ladywood School and Outreach Service, Masefield Road, Little lever, Bolton, Greater Manchester
Tel:
01204 333400
Email:

marsdenc@ladywood.bolton.sch.uk

Website:
www.ladywoodoutreach.co.uk
| Area: | Lancashire |
| --- | --- |
| Name: | The Language Tree |
| Centre Type: | Widgit Centre and Trainer |
| Contact: | Harriet Simpson / Jess McKendrick |
| Address: | c/o 2 Lakewood Avenue, Thornton Cleveleys, Lancashire, FY5 3ET |
| Tel: | 07711 907567 / 07530 972418 |
| Email: | harriet@thelanguagetree.org.uk |
| Area: | Oldham |
| --- | --- |
| Name: | ACE Centre North |
| Centre Type: | Widgit Centre and trainer supporting Local Authority schools |
| Info: | The ACE Centre North provides assessments, training, information, advice, consultancy and equipment loans to support the use of assistive technology for communication and learning for people with physical and communication disabilities across the North of England and North Wales. |
| Contact: | Sara Dale |
| Address: | Hollinwood Business Centre, Albert Street, Hollinwood, Oldham, OL8 3QL |
| Tel: | 0161 358 0151 |
| Email: | sdale@acecentre.org.uk |
| Website: | www.acecentre.org.uk |
Area:
UK wide
Name:
Linrow Education
Centre Type:
Widgit Centre supporting Local Authority Schools, organisations and parents groups.
Info:


Karen is the Founder and Principal Trainer for Linrow Education.

She was appointed as a Specialist Leader in Education for Autism and this allows her to disseminate good practice and deliver training in the field of SEND. Karen offers various SEND and condition specific training, including ASC, ADHD and Dyslexia and has used and recommended Widgit Software widely to support many pupils.
Contact:
Karen Ferguson
Tel:
07887 485300
Email:
karen@linroweducation.co.uk
Area:
UK wide
Name:
AT Therapy
Centre Type:
Widgit Centre Supporting Local Authority Schools and parents
Info:


AT therapy are an expert team of speech and language therapists who assess, diagnose, and provide therapy for people with speech, language, and communication and/or swallowing problems to help them communicate to the best of their ability. AT Therapy offer a wide range of services to meet needs, including:

face-to-face sessions at your home, school, or workplace
dedicated personal therapy plans
online e-therapy support
teletherapy
training and resources

In addition they have specialist expertise in the field of Alternative and Augmentative Communication (AAC) and Assistive Technology (AT).

Contact:
Amy Robertson
Address:
Chambers Business Centre, Chapel Rd, Oldham, OL8 4QQ
Tel:
07702 332601
Email:
amyrobertson@attherapy.co.uk
Website:
https://attherapy.co.uk/
Become a Widgit Centre
Are you a Local Authority, County Council, NHS, Charity or Independent Service that is interested in becoming a Widgit Centre? Email us at
info@widgit.com
to find out more information.