You are here:
Symbols, Literacy and Social Justice
Symbols, Literacy and Social Justice
An internationally focused book about symbols and literacy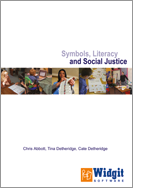 Symbols, Literacy and Social Justice looks at the role of symbols in supporting access to literacy, learning and information. It argues that such access is essential to social justice.
Buy Now
The book is in two parts. The first part, Symbols in use: supporting literacy and social justice is a set of 26 case studies from around the world, identified with the help of ISAAC, The International Society of Augmentative and Alternative Communication. These case studies show many types of symbol usage in different social contexts. The second part, Understanding symbol literacy practices: towards social inclusion, draws together the issues that are raised in the case studies. It looks at the historical development of symbols for literacy, types of symbol usage and the impact of technology. This is followed by an extensive discussion on current issues in symbol use, based upon the case studies.
This book builds on two previous books: Literacy Through Symbols, by Tina and Mike Detheridge, published by David Fulton (Second edition 2002) and Symbols Now, by Chris Abbott, published by Widgit Software (2000). Symbols, Literacy and Social Justice, presents an international picture, updated to address current issues of social justice and inclusion.
Like its predecessors Symbols, Literacy and Social Justice is written in an informal style. This means that it is appropriate for parents and carers as well as professionals. It introduces the fundamental ideas for newcomers to the field, but raises questions and discussion for the experienced practitioner.
The authors are grateful to the support of ISAAC for their support in identifying contributors.
Written by Chris Abbott, Tina Detheridge, Cate Detheridge
Book Contents

Part 1: Case Studies
Symbols in use: supporting literacy and social justice

Enhancing a museum experience for people with learning disabilities, UK
Symbols within the family, USA
Symbols as a bridge to literacy, UK
A symbol supported school newspaper, UK
Enfranchisement through symbols, Afghanistan
Symbols for reading and pleasure, UK
Symbols and increasing social interaction, Argentina
Stories and rhymes in symbols, India
Symbols, behaviour and autism, Japan
Becoming an author with symbols, Norway
Literacy, art and emotions through symbols, Finland
Symbol shopping lists for the elderly, Denmark
Symbol email uniting home, school and work placement, UK
Life skills, citizenship and symbols, France
Managing the day with symbols, UK
Using symbols to understand the hairdresser, Denmark
Symbols supporting the development of speech, Thailand
Using symbols to fully participate in school life, Denmark
Symbols for second language support, UK
Using Bliss within the family, Egypt
Symbols and reading schemes, UK
Using a variety of approaches to achieve symbol supported literacy, Poland
Symbols helping the whole family, UK
Achieving potential with symbols, Canada
Symbols helping to change special education, Romania
Early intervention giving an important start, Denmark

Part 2: Discussion
Understanding symbol literacy practices: towards social inclusion

How symbols began
Different symbol types
Symbol uses

Communication - expressing wants and needs, social interaction
Behaviour and frustration through not making oneself understood
Gaining language - helping to visualise meaning and develop internal language
Gaining literacy
Access to literacy

Impact of technology on the use of symbols
Current issues in symbol use

Criteria for choice of symbols
Social issues and choice
Communication friendly environments
Introducing symbols to users
Attitudes to symbols
Types of symbol support
Symbols to support formal learning
Writing using symbols
The role of symbols within literacy
Creating materials and information for symbol readers
Inclusion and social justice

Part 3: Looking Forward

Summary of issues raised by the Case Studies

References

Further reading and resources