You are here:
Critical Care Covid-19 Communication Chart
Critical Care Covid-19 Communication Chart
To help patients communicate in hospital
and critical care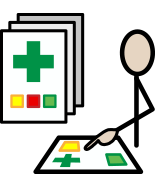 This symbol board was created to help medical staff to communicate with patients who are critically ill due to Covid-19.


Overview
Developed together with the Speech and Language Therapy Team at Weston General Hospital, this symbol board can assist medical staff in communication with patients who are critically ill due to Covid-19. It can make communication possible even if the patient is being ventilated or has a tracheotomy (but is alert).
The board includes symbols for immediate care needs as well as messages that patients may want to pass to family members. Please also consider using this chart if patient is considered to be end of life.
How to use the board
Position the board so that patient can see it (glasses on if required and available).
Ask questions such as "Are you in pain?" while indicating the relevant area of the chart (for example, the pain scale).

Other questions may be "What do you want?", "How do you feel?" or "How can we help?"



If patient is unable to point to choices, try asking "yes/no" questions such as "Any pain?" or "Do you have a sore throat?"

They may be able to do a thumbs-up for "yes" and hands flat for "no". If they are unable to move their hands, they can look up for "yes" and down for "no"; looking at the "yes" and "no" symbols on the chart will support this.

If patient is unable to point at all, you can also ask questions such as "Is it in this box?", then scan down each line asking "In this line?", then scan with your finger along the line until they indicate (for example, by looking up for "yes") the correct symbol.
Versions
PDF Version
The PDF version of the board, created with InPrint 3, is free to download and print and is intended for single use around the world.
Talking Version
The Talking version of the board is hosted by our Widgit Online system and is designed for use on a tablet. When a patient or member of staff taps a cell on the talking version of the board their choice is spoken aloud.
Please let us know if you have any suggestions for improvement or feedback on the board.
We would like to offer the board in different languages, please contact us at info@widgit.com if you can assist with translations.
Note: these are development versions, if you spot any errors in the content or translations please contact us.