You are here:
Talk About Abuse
Talk About Abuse
Symbol grids to help people talk about abuse, developed by Dr. Janet Larcher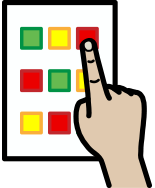 Communication grids to help people talk about abuse situations. The vocabulary grids are available as InPrint 3 files, PDF to print and for communication devices running The Grid.
Buy Now
Vocabulary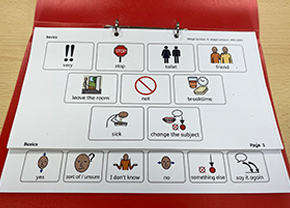 This vocabulary set was initially designed to assist the work of Intermediaries in their role of supporting people with communication difficulties when being interviewed by the police and in any subsequent court appearances.
It is clear, however, that there are many other situations where a person with communication difficulties might wish or need to talk about abuse and yet have trouble finding a method or the language to "say" what they want. This vocabulary set has been modified to meet this broader purpose.
The vocabulary set was trialled in a number of teaching environments where pupils and students used this vocabulary set to describe each other and their reactions to a range of test situations and scenarios. The vocabulary was found useful in all these settings.
The pack can be also used to facilitate more general discussion about describing people although the pages that refer to intimate body parts may need to be removed. This would allow people in any setting - school, college, respite, care homes, hospital - who have communication difficulties to become familiar with the vocabulary, so that if they subsequently need to report criminal activities they have the vocabulary to do so.
Contents
InPrint 3 Files
Talk about Abuse for InPrint 3 files that can be installed into InPrint 3 ready to be edited, personalised and printed.
The Grid Files
Talk about Abuse files that can be installed into The Grid and The Grid Player to use as a dynamic communication display. Files loaded into The Grid can also be edited and personalised.
PDF Files
Ready to print versions that requires a PDF Reader. There are versions in colour and black & white.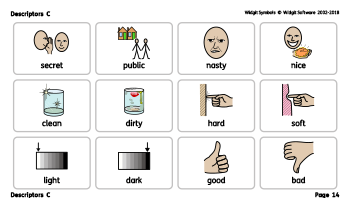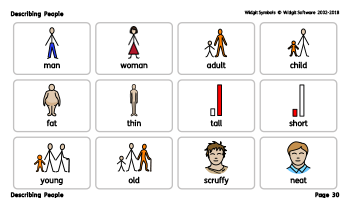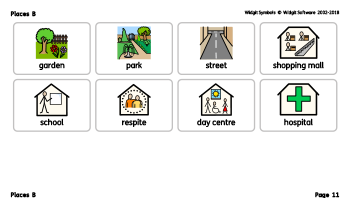 Full Topic List

The vocabulary is split into 12 mains themes:

Basics:
This is to facilitate the management of the interview, which could be changed according to circumstances.


Colours:
A selection of obvious colours.


Alphabet:
Available alphabetically in upper and lower case. There is also a QWERTY layout for those familiar with keyboards.


Numbers: 0-9.


Time:
Three pages covering times of a day or week and notable days of a year.


Places:
Two pages of locations, featuring typical rooms and outside locations.


Descriptors:
Three pages of descriptions relating to state, size, length, texture, etc.


Quantity:
A page to help express general amounts.


Feelings:
Six different states of emotion.


Demeanor:
Seven different states of behaviour or manner.


Actions: Two pages.


Body & Face Parts:
Main body parts, head parts and other key features. Pages of intimate male and female body parts can be removed if required. Five pages in total.


Clothes:
Top, bottom, full body, footwear and accessories.


Describing People:
To express general appearance, gender, age and body shape.


Hair Colour: Six different hair colours.


Hairstyle:
A page of commonly seen hairstyles.


Skin Colour: Five different skin pigments.


Court:
Two pages of symbols that relate to court subjects and people.


Responses:
yes, sort of/unsure, I don't know, no, something else, say it again. These should be available at all times.
Ways to Buy
Postage & packaging costs per order:
This pack comes as a download.
All prices are quoted ex VAT
Order Online:
Select 'Add to basket'
Order By Phone:
01926 333 680
Order By Email:
info@widgit.com
Order By Post To:
Widgit Software,
1st Floor, Bishops House
Artemis Drive
Tachbrook Park
Warwick
CV34 6UD
United Kingdom