You are here:
Ellesmere College
Ellesmere College
Signs with Widgit Symbols, Moonwriting and Braille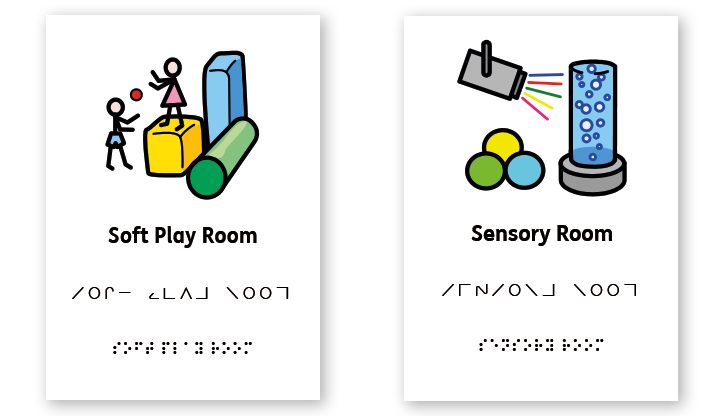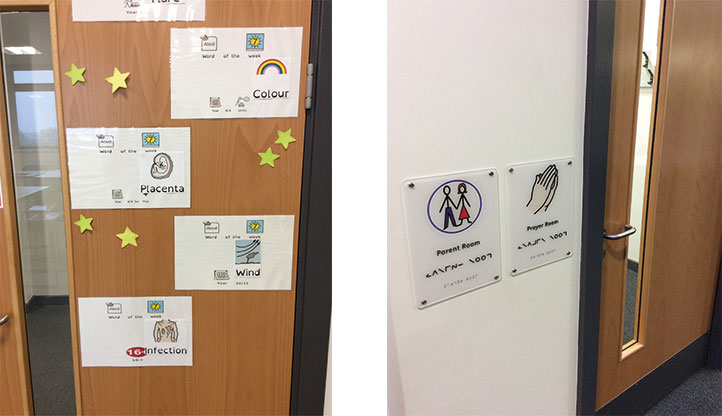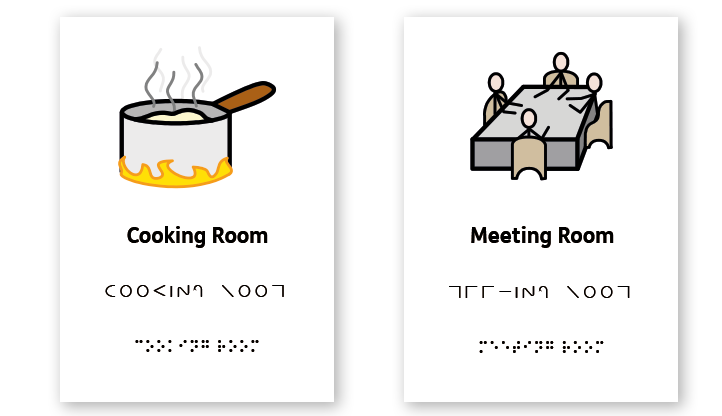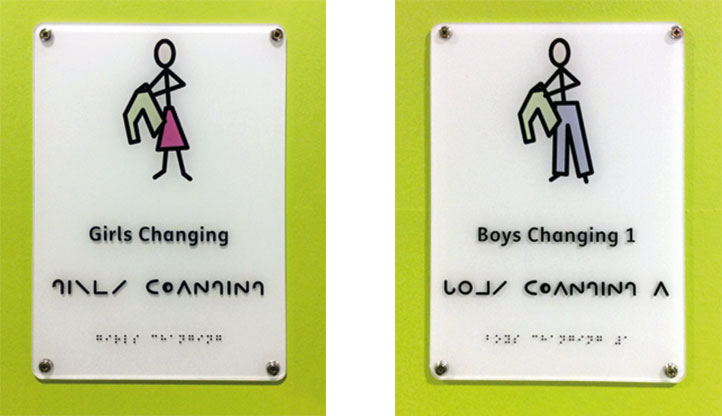 Ellesmere College is a Special Needs College on the outskirts of Leicester that required accessible signage to suit all of their students' needs...
Ellesmere College is a Special Needs College on the outskirts of Leicester. The College has Primary, Secondary and Post 16 departments and caters for the needs of 250 students between the ages of 4 - 19 with a wide range of educational difficulties from moderate to severe and complex needs. Some students have additional sensory, autistic or speech language and communication needs.
A number of Ellesmere students communicate non-verbally either through using systems such as Makaton and BSL, or by pointing/gesturing. We needed to improve how we were communicating with each other across the school to include our non-verbal communicators. We also needed to be able to share information in a way that does not necessarily use printed text, as some students may not be able to read or understand this. Additionally, we have students who are VI, and use braille or moon symbols to communicate.
Everyone at Ellesmere loves the new signs! We have received loads of positive comments from students, staff and visitors alike; the signs show we really do care about communication at Ellesmere College!
Widgit symbols allow our staff and students to use a simple and clear means of sharing what they want and need with each other. They are a valuable way of aiding a non-text based system that really works effectively across a range of learners, including those with EAL. As Widgit is already in use at Ellesmere, it made a lot of sense to add it to our signage.
Having already been using Widgit symbols at Ellesmere College for labelling, worksheets, letters home and on the website with great success, we next decided that our interior signage should also be developed to tie in. We wanted to include both braille and moon symbols with the Widgit symbols for specified areas around school in order to also support VI students, and so worked with Widgit in developing these.


Having the new signage in school has meant we have a much more inclusive way for all of our students to know where they are in the building. Students with VI can use the braille and moon text, whilst others can become familiar with the symbols on the signs, and link them to their timetables/schedules etc.
From the initial request to the completion of our first set of signs, everyone at Widgit were helpful, friendly and professional. Communication was prompt and effective, and when issues around the quality of signage occurred (from your end, not ours, as they were rejected by Tom) I was kept informed at every stage.
We would definitely recommend Widgit to anyone who needs accessible communication, the bespoke service provided was perfect in every way! Thank you Widgit - I'm sure we'll be back for more soon!

Clare Maltby
Senior Leadership Team
Ellesmere College
Next Success Story - Bereavement and Loss Resource