You are here:
National Paralympic Heritage Trust
Symbols support National Paralympic Heritage Trust
Katy-Jayne Lintott at the Trust got in touch with a view to making their work more accessible and to champion inclusion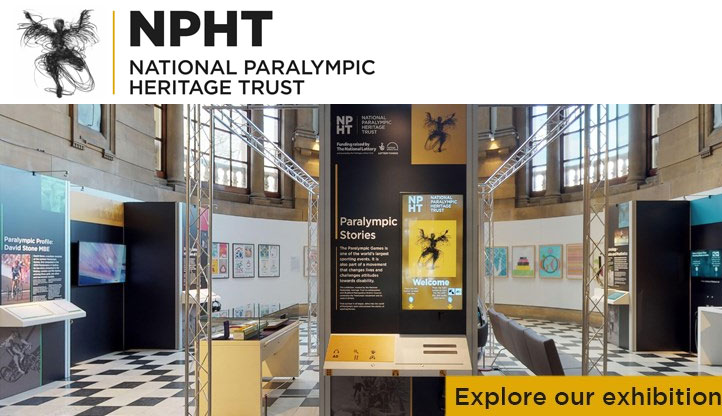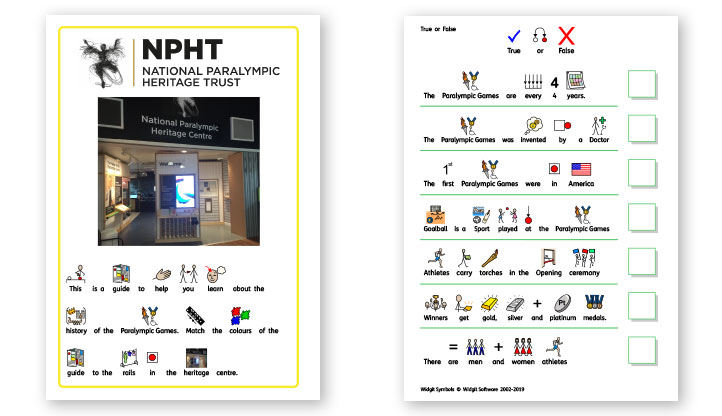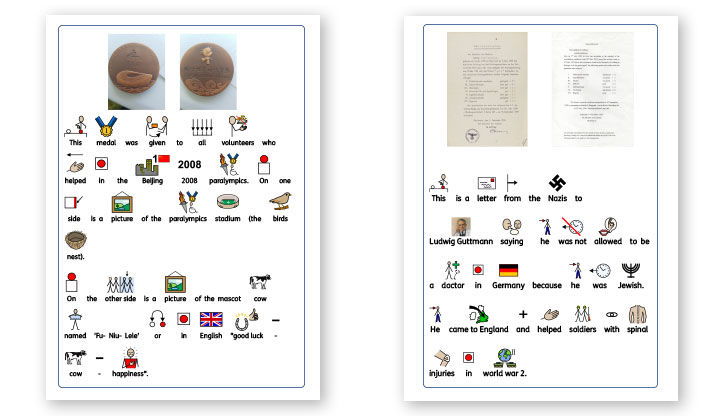 The National Paralympic Trust was established to protect and share British Paralympic Heritage. Katy-Jayne Lintott, Learning and Engagement Manager at the Trust explained that the use of Widgit Symbols would support the Trusts aims to be more accessible allowing them to engage more people from across the communities in which they operate...
"The result, we hope, will be that we will be working in local areas to capture, celebrate and cherish this little known or documented heritage but also, crucially, to challenge potential negative perceptions to disability." Katy-Jayne Lintott
The Trust has permanent displays at Stoke Mandeville Stadium and the National Spinal Injuries Centre at Stoke Mandeville Hospital. Stoke Mandeville is widely acknowledged as the birthplace of the Paralympic movement. In addition, the Trust has a programme of regional exhibitions and plans for permanent displays at the Queen Elizabeth Olympic Park, London.
The National Paralympic Heritage Trust have various learning and outreach programmes for community groups, schools (both SEND and integrated schools) and anyone interested in learning more about Paralympic heritage. You can find out more at www.paralympicheritage.org.uk


The Trust are developing materials with Widgit symbols for all its exhibitions. Examples of some of these resources are materials for an exhibition at Cliffe Castle for the Handling Collection" and "True of False" questions about the displays. A guide has also been developed to help visitors learn about the Paralympic Games and will be made available for anyone who needs it in the Heritage Centre and at the National Spinal Injuries Centre.
"It is a big job and I am excited at the prospect of being able to showcase our work within the museums and heritage sector as champions of inclusion and accessibility. In an ideal world, I hope we even get to the point where we can have Widgit Symbol support on our website but that is something to aspire to at the moment."
Elaine Phiri, Operations & Engagement Manager said "Thank you to Widgit Software for their wonderful resources which we have used alongside our regional exhibitions and Paralympic Heritage Centre displays. A virtual tour can be accessed at paralympicheritage.org.uk/Event/virtual-exhibitions"
We look forward to hearing more about how our symbols are being used here and working with the National Paralympic Heritage Trust in the future.
Next Success Story - ENS Care & Support, delivering person-centred care