You are here:
Consistency
Guide to good symbol content
Consistency
---
One of the most important elements of good symbol support is consistency. When you have chosen the appropriate symbols to effectively illustrate the concepts behind your text, it is best to continue to use the same symbols for those concepts every time that they are referred to within the text.



In the consecutive sentences above, 'it' refers to an object ('my new car'). By replacing the symbol for the pronoun 'it' with the symbol for the object that it refers to, as defined in the first sentence, it is much easier for the symbol reader to understand that this object is still the topic of conversation.
As well as ensuring that the way you symbolise a concept is consistent throughout your content, it is also very important to ensure that the symbols you choose are consistent with each other. Symbols illustrating words which have an antonym (e.g. hard and soft, light and dark, rough and smooth) will very often have a directly corresponding symbol for their antonym 'counterpart'. Using this pair of symbols together where possible will prevent confusion and reinforce their meaning.
Some pairs of antonyms will have more than one pair of symbols that could be used to illustrate them, depending on their context.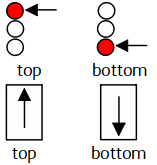 Here, the first pair of symbols suggests an item at the top of a stack, whereas the second pair suggests the top or bottom of an item.
---
Consistency example
Consider the following sentences:
'Put the light boxes on the top shelf.'
'Put the heavy boxes on the bottom shelf.'
By being consistent and using the corresponding symbol pair for 'top' and 'bottom' when symbolising the instructions, their meaning is made clearer and easier to understand. The repetition of 'put' and 'shelf' and the consistency between the symbols for 'light' and 'heavy', and 'top' and 'bottom' makes it easier to understand that the two instructions are elements of the same task.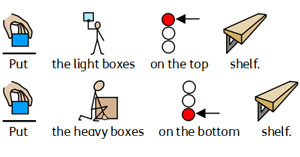 If the shelf-stacking instructions were produced with the inappropriate pair of symbols for 'top' and 'bottom', they would become harder to understand. Similarly, if they were produced with the concepts for 'top' and 'bottom' represented in different ways, then, for some readers, the meaning and the relationship between the two sentences could be lost.
---
Guide home | Next - Repetition