You are here:
Puffin on the Beach

An illustrated story with Widgit Symbols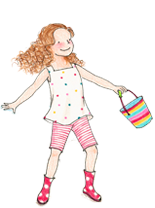 A beautifully illustrated printed book By David and Tharada Blakesley, supported by a cd of over 40 educational resources.


Buy Now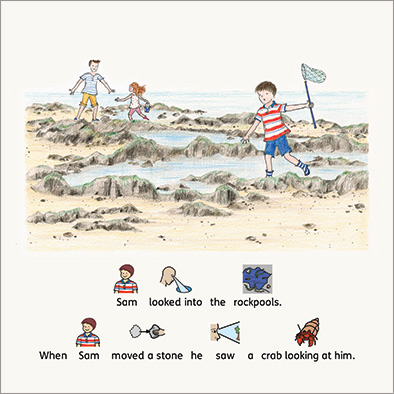 The Book
Puffin on the Beach describes how Sam and Hollie's plan to spend an afternoon rock pooling takes an unexpected turn when Sam thinks he has found a Penguin. Hollie is not so sure, and their father realises that the bird is actually a Puffin. Clearly in need of help, the children rescue the Puffin and we discover how the bird is eventually returned to the ocean.
About the authors
Puffin on the Beach is the first of a series of 'Sam and Hollie' books by David Blakesley (author) and Tharada Blakesley (illustrator). Together they have worked on a number of books for parents/carers, teachers and children with autism and related conditions. They also founded 'Autism and Nature', an organisation dedicated to engaging children on the autistic spectrum with the countryside and nature.
A learning resource
This delightful story should appeal to children between the ages of 3 to 11 with special educational needs who have learning difficulties or problems with speech and language development. It may also interest older children who still require stories with simple language and a high visual content. It combines clear and delightful illustrations with simple text, supported by Widgit symbols over key words.

The Sam and Hollie books represent the first series of illustrated children's story books which symbolise key words with Widgit symbols.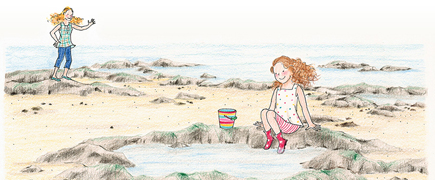 Education Resource CD
A fantastic selection of 40 new and exciting symbol resources based on the book. They include cross curricular themed materials linked to the seaside and a sequence of literacy lessons can be used to teach objectives related to the story. These engaging resources inspire teaching and learning within primary education.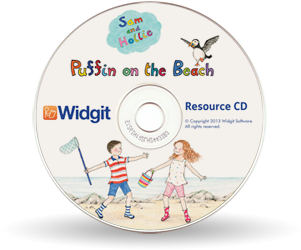 Contents of Resource CD

The Resource CD contains 40 activities linked to the book, seaside and birds.

All resources are in PDF format.

Literacy
 
Puffin on the Beach 
- A4 Story
The full story with illustrations and symbol content
Write your story
The illustrations without the symbols content
Draw your own pictures
The story without illustrations
Sequence the pictures
The illustrations in a 3x2 grid
Sequence the Story
- Full Version
Symbol content per 2 lines
Sequence the Story 
-  Short  Version
A short version of the story in 12 lines.
Story Flashcards
- in thee formats
Flash cards of the main story vocabulary. In symbol & text, symbol only and text only
Story Vocabulary List
Small version of the flashcards to support writing
Spelling Activity
Write the word by the symbol
Connect
Draw a line to connect the word and symbols
Story Comprehension
- Questions
12 comprehension questions on the story
Story Comprehension
- Multiple Choice
8 multiple choice questions on the story

Maths

 
How many?
Counting up to 9 activity
Counting to 5           
Counting and visual discrimination
Sea Bird Tally Chart
Tally chart activity for when visiting waterways and beaches
Sea Bird Pictogram
Pictogram activity for when visiting waterways and beaches
Park Bird Tally Chart
Tally chart activity for when visiting parks
Park Bird Pictogram
Pictogram activity for when visiting parks
Garden Bird Tally Chart
Tally chart activity for when in the garden
Garden Bird Pictogram
Pictogram activity for when in the garden
Odd one out       
Images for visual discrimination

Science
 
Summer and Winter Clothes
Pick clothes to wear when its hot / cold
Sort the Animal Features
Cut and stick to sort the different animal features
Sort the Animals             
Cut and stick to classify the animals types
Life cycles
Sequencing activity for birds, frogs, butterflies and flowers




Geography
 
Puffin Book
A book about puffins
Puffin Facts  
14 fun facts about puffins
Rockpool Safety
Rules for staying safe when rockpooling
Beach Safety
Rules for staying safe on the beach
Coasts Book  
Information about coasts
What's in a Rockpool?
Tick or count what you can find in a rockpool.
What do you find?          
Draw a circle around the items you find on the beach / in the sea / on the pier
Seaside Flashcards
Key word vocabulary linked to the seaside

PSHE and Citizenship
Vet Interview            
Find out what it is like to be a vet

Games
 
Puffin says
Puffin action version of the 'Simon Says' game
Dominos
Topic related version of Domino cards
Word Search
Word search with words from the story
Rockpool Bingo
Bingo game for 10 players on a rockpool theme