Symbolworld.org
Free website for all symbol users of all ages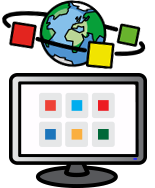 Symbolworld enables symbol users to access information independently and contains a huge variety of articles, stories and news.


Visit Symbolworld.org
How do I write my own online stories?
If you'd like to write your own stories online you can use 'Widgit Online' to create, save and share symbol supported documents in a web browser.
There is a free 21 day trial of Widgit Online which can be found here: www.widgitonline.com/trial

Find out more about Widgit Online.
If you publish documents for public viewing, you can share them with people who do not have a Widgit Online account, perfect for sharing stories, reviews and news with parents, families and local communities.