You are here:
James Rennie School
The James Rennie School
A school Virtual Learning Environment using Widgit Symbols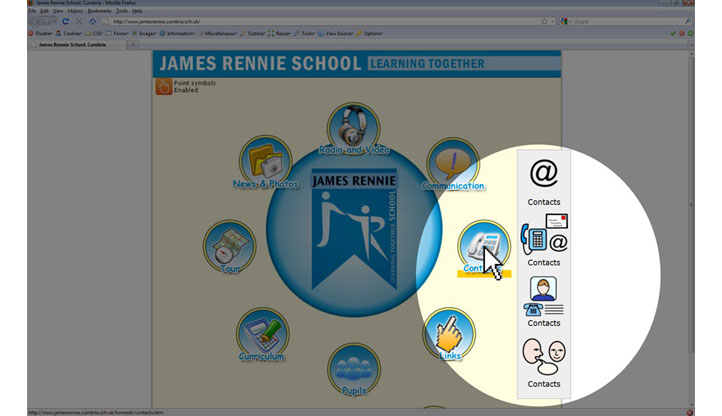 The James Rennie School in Carlisle is a maintained co-educational Community Special School, whose first main specialism is Special Educational Needs communication and interaction...
The school created its Virtual Learning Environment (VLE) using Moodle – an open-source, free web application that educators can use to create websites, such as VLEs, for students.
The James Rennie School's VLE is a place for its students to work and learn, now with the support of the Widgit Symbols that they are familiar with using in the classroom environment.
The Widgit Symbol support in the James Rennie School's website and their Moodle VLE has been achieved by the addition of the Widgit software 'Point'.
Point enables students who struggle with reading to see a list of symbols illustrating the possible meanings of any words within the learning platform's text they are unsure of, simply by hovering their mouse over a word.
This discrete mouse hover-activated symbol support can be turned on and off, allowing more confident readers to access the VLE without seeing symbols. It also allows students who do struggle with reading are able to feel a real sense of independence by being able to access text on their own more easily, through having the option of being able to find the meaning of words that they are struggling or unfamiliar with by themselves.


"Using Widgit Point has successfully allowed learners at the James Rennie School with low literacy levels and English as a second language (EAL) to more fully engage with their virtual learning needs. Not only have our pupils felt the advantage from Point but also parents with EAL and other users with learning difficulties wanting to engage with the school.
"Installation is easy and simple and, once installed, Point runs itself without the need for technical changes. This has been a real boon for us - just install and forget. It just works across the VLE and website."
Kris Williams
James Rennie School
Next Success Story - Symbols in a Local Authority