You are here:
Safe Place Scheme
Safe Place Scheme
Safe Places helps vulnerable people while they are out and about in the community
Safe Place Scheme in Kirklees
Safe Place Scheme in Peterborough
Safe Place Scheme in Warwickshire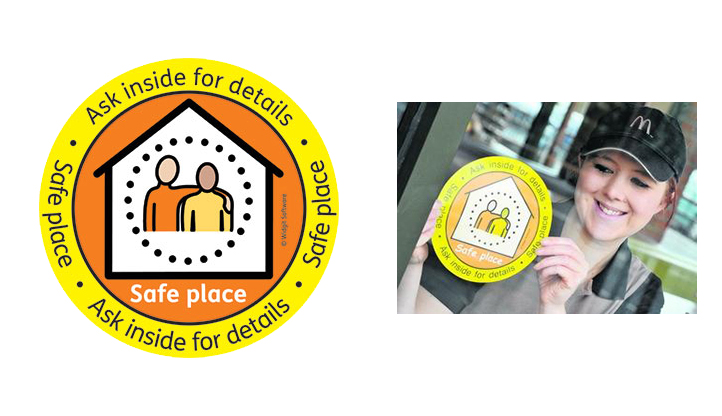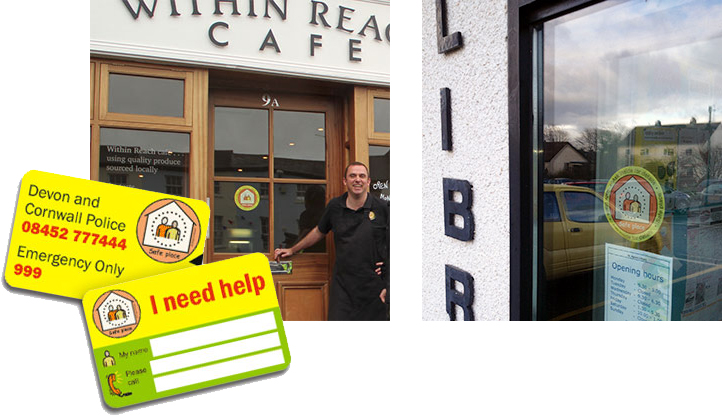 The Safe Place Scheme helps people with learning difficulties across the country feel confident and safe whilst out and about. If someone feels they are being bullied, abused or harassed while they are out they have "Safe Places" to go to...
Window stickers are used in public places (shops, community centres and libraries etc) that are part of the scheme to identify themselves as Safer Places. Cards are also carried by individuals (sometimes the Hate Crime Reporting Card), with useful contact numbers on (i.e. helpline numbers, carer's details, family contact details etc).
If an individual needs help they can enter a Safe Place and ask for a contact to be made. A card is not necessary and help can still be asked for from "Safe Places". Safer Places will be ready to help and assist anyone who goes to them for help and create a temporary safe haven for them whatever the circumstance.



The 'Safe Place' Recognised Symbol
The Safe place/Safer Places logo using the Widgit Symbol is nationally recognised which means safe places can be found all over the country. This logo is easily identified and highly visible.
Organisations taking part will display this symbol on a sticker normally found somewhere highly visible like a front window.
"I think it is vital that Safe Places schemes strive towards using a common symbol. Many schemes have their own local identities, which is great, but equally people need to know at a glance what Safe Places is all about, and I think your symbol does this well. Also, when people go to new places where different schemes operate, they should be able to recognise the symbol wherever they go. The Widgit symbol helps to unify what people are doing, and helps us move towards a more 'national' identity for Safe Places."

Maggie Graham, Regional Campaigns Officer, Mencap
Safe Place Schemes in Your Area
The Safe Place Scheme was initiated by the South Devon and Dartmoor Community Safety Partnership with the aim of stopping bullying and abuse of adults with learning disabilities across Devon, Cornwall and the Isles of Scilly. The scheme was picked up by other local authorities with Safe Place Schemes now found all around the UK:
New Safe Place Portal
We have partnered with the not-for-profit company Safe Places Org CIC working with them on their new web site www.safeplaces.org.uk .
This site acts as a portal where vulnerable people can find safe places in their local area. Existing schemes and local authorities can become members of this site so all Safe Place details are available to everyone, at all times, no matter where they are in the UK.
The Safe Places site has been developed so that it can be accessed as independently as possible by the schemes potential users. Accessibility features include Point symbols and FS ME font developed for people with learning difficulties.
Next Success Story - Symbols in The Primary Curriculum