You are here:
Paediatric Dentistry
Paediatric Dentistry Sheffield NHS Foundation Trust
Using symbols to support patient communication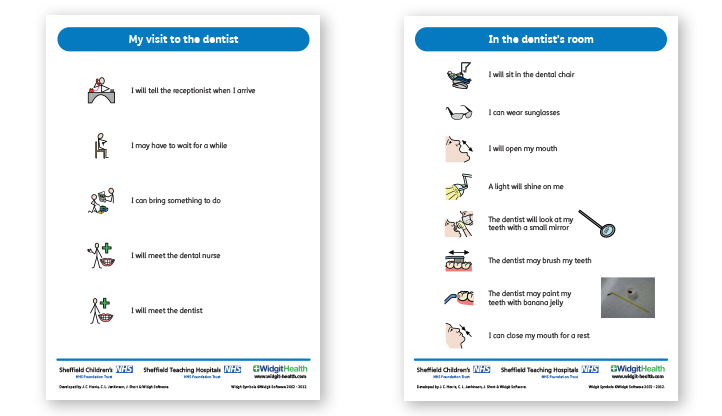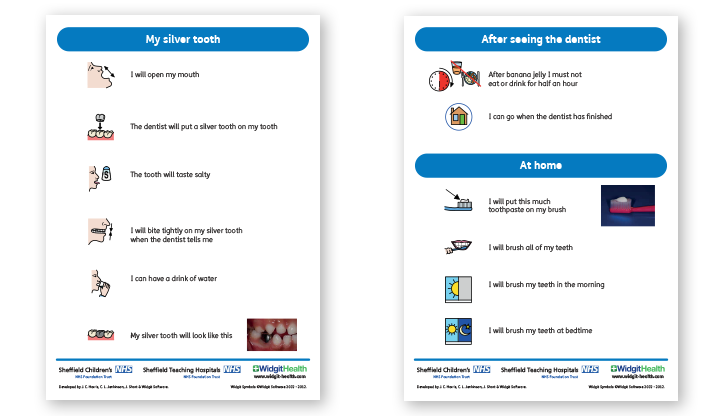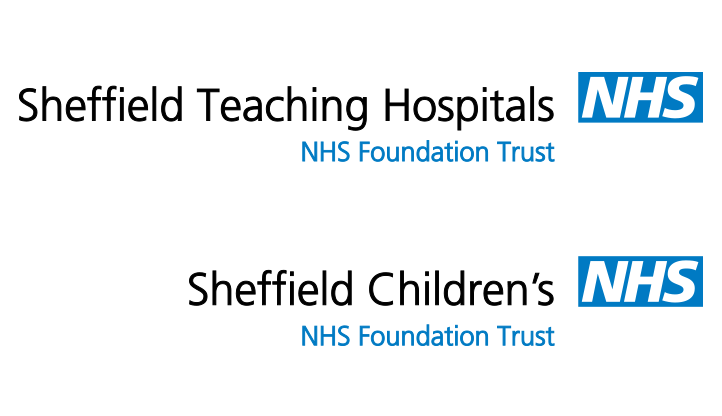 In partnership with Sheffield Children's NHS Trust and Sheffield Teaching Hospitals NHS Trust, Widgit created a range of symbol resources to support a visit to the dentist...
Charles Clifford Dental Hospital offers a number of services recognised as outstanding by the CQC. This includes a Pain and Anxiety Service developed by the Community Dentistry Service that has led to a reduction in the numbers of patients needing intra-venous sedation for dental treatment and the overall waiting times for intra-venous sedation.
The service has also developed a communication tool known as 'Widgit sheets' which enable children with autistic spectrum disorders and other communication disorders to accept dental treatment.
This has been recognised nationally as an example of good practice.
The hospital's holistic approach to individual patient requirements was recognised, with anxious patients have the option of utilising cognitive behavioural therapy (CBT), acupuncture, hypnosis, inhalation, or intravenous or oral sedation to assist with their dental treatments. It also provides an out-of-hours consultant-led oral surgery clinic for patients unable to be released from work during the daytime.


Christopher Roberts and his mum Carol Roberts have both benefitted from the services at Charles Clifford. Christopher recommended it to his mum, who previously had a fear of dentists, after being delighted with his own treatment. Carol said:
"It's given us a new lease of life, I am so pleased for both of us."
Written by Mrs Jenny Harris
Consultant in Community Paediatric Dentistry
Community & Special Care Dentistry and Paediatric Dentistry
Charles Clifford Dental Services
Sheffield Teaching Hospitals NHS Foundation Trust and Honorary Senior Clinical Lecturer in Paediatric Dentistry
University of Sheffield
Next Success Story - Lorraine Senior | Functional Reflex Therapy