You are here:
Third Party Symbols Sets
InPrint 3
---
Common Questions

How can I use my old Makaton / BSL Databases with InPrint 3?
---

Solution
New versions of the Makaton and BSL Symbol sets come with installers that automatically work with InPrint 3. But if you have been using an older version with InPrint 2, you can continue to use these with InPrint 3 if you follow the instructions below.
1. Open the Wordlist Manager from your start menu:
Start -> All Programs -> Widgit -> Common Files -> Wordlist Manager
2. Open the third party wordlists you have been using with InPrint 2.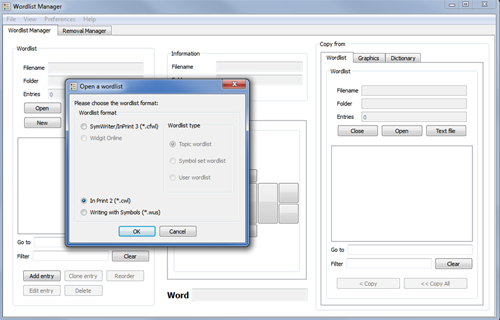 To do this click the Open button on the left hand side of the wordlist manager.
Select the InPrint 2 (*.cwl) option and click OK.
You will then be shown all of your InPrint 2 wordlists, double click to select the the third party wordlist you wish to use with InPrint3 i.e. Makaton Collection 2015 Signs.cwl
3) Convert the file into an InPrint 3 Wordlist.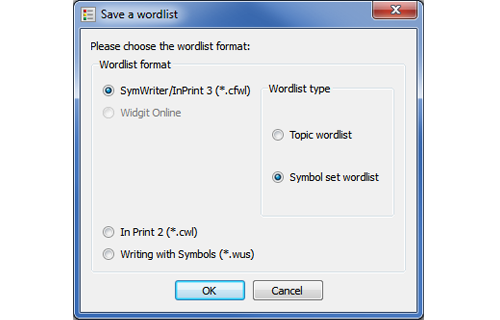 To do this go to the File drop down in the top left hand corner and select Copy.
When asked what format you would like to save the wordlist in select:
SymWriter/InPrint 3 (*.cfwl)
then
Symbol Set Wordlist

Give your converted wordlist a name, Where possible we recommend keeping the name the same as the list you used with InPrint 2.
Click OK to confirm and save.
4) You can now use you third party symbol set with InPrint 3.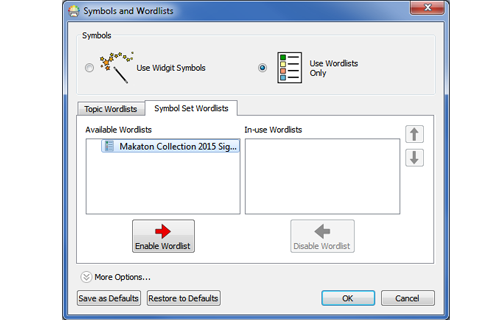 Once InPrint 3 is open, create a new document.
Then go to the Symbols tab and select the Symbol Settings option.
From here choose the Use Wordlist Only option.
In the Symbol Set Wordlists tab you will find your converted list, click on this and then the Enable Wordlist button.
Click OK to return to your document and create content with this third party symbol set.
Note: If you have third party wordlists installed for use with SymWriter 2 then add InPrint 3 to the same machine the lists will automatically be picked up.