You are here:
Symbols in Word or PowerPoint
InPrint 3
---
Common Questions

How do use symbols from InPrint 3 in Word/PowerPoint?
---

Solution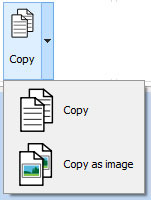 You can copy content from InPrint and paste it into other programs, such as Microsoft Word or PowerPoint.
Select the frame or table then press Ctrl + Alt + C or click the Copy as Image button. The Copy as Image button is available on the Copy drop-down menu on the Edit tab.
Then click on your target program and press paste or Ctrl + V.