You are here:
Widgit Symbols 2021
Symbol Resources
---
Common Questions

Why have the symbols in my resource pack changed?
---

Solution
In 2021, we released a major update to the Widgit Symbols, improving quality, offering increased diversity whilst also recognising recent technological and social developments.
InPrint and SymWriter Resources
The new symbols automatically come with InPrint version 3.5 and SymWriter version 2.5. 
To access the new symbols, you can simply update your version of the software.
Download the latest version of InPrint 3
Download the latest version of SymWriter 2
To see if you have the new or old symbols, simply type 'cat':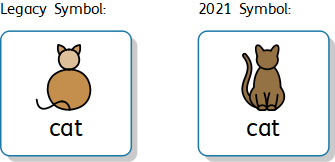 You do not need to do anything to change your documents to use the new symbols. When you open an existing InPrint or SymWriter document or resource, all the symbols will automatically change to the new symbols.
PDF Packs
We have updated all  the PDF resource packs to use the new symbols. If you have previously purchased a PDF resource pack, you can redownload  to use the version with the new symbols.
Log on to the Widgit Shop and go to the Downloads section, where you can access the files for all of your previous purchases.  More information on accessing downloads