You are here:
2021 Widgit Symbol Update
2021 Widgit Symbol Update
Why are we making changes?

To support self-expression and vocabulary comprehension for our users, we've been working on a major update to the Widgit Symbols to better represent the culture and technology of the world we live in. We have also reviewed all symbols and started to improve where necessary, and, in cases where the old symbols were no longer fit for purpose, replace them entirely.
A summary of the changes
Utilising the latest best practice and cutting-edge drawing techniques, we have made some form of improvement to at least half of our symbol set, with significant changes to one in three of our symbols. Of the symbols we have modified, there are a small number that have been fundamentally changed.

2021 Symbol Reference Guide
A full list of the significant changes to the Widgit Symbol Set
We have prepared this reference document for users who would like a more detailed understanding of the changes to our symbol set.
Original

New

In previous years, Widgit's policy was to never dramatically change the symbols as these symbols were someone's 'words'.  Instead of editing symbols that needed to change, we added alternative symbols. This resulted in having more than one symbol per concept, some of which were inconsistent, and the original drawings became out-of-date.  We have since actively removed unnecessary choices to avoid confusion, making it easier for the end user.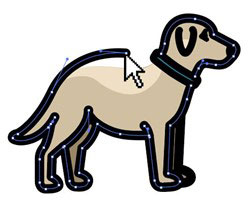 In the past, we have worked with a range of designers that introduced different styles. Graphic design software and technology has also improved and developed over time. New ways of working enable us to manipulate graphics more easily, such as changing skin tones, standardising colours etc,. We are also moving from the file format from EMF vector graphic files (no longer supported by Microsoft), to SVG format.
For these reasons, we have reviewed every single symbol in the set and redrawn them where necessary, ensuring that symbols are consistent, clear and concise, whilst maintaining a high and modern standard.
View our previous redevelopment project
Development
This project was led by Cate Rae, Managing Director and Widgit's Symbol Design Team. To ensure that the development was useful and fit for purpose, we consulted within our Widgit Centres, overseas partners and close colleagues and have incorporated their feedback into any changes we have made to our symbols.


We have looked at all the 'drawings' that needed improving, paying particular attention to the following:
Quality:  Is the drawing of high standard? Is it clear and concise?
Consistency:  Do we have the same graphic in every symbol? i.e. is a car the same in every symbol set such as car window, garage etc. 
Modernisation:  Do computers, mobile phones and telephones still look the same as they did 20 years ago? Do younger users know what an 'old' telephone looks like? Today, most people use mobile phones rather than telephones.
Cultural changes: Is the symbol gender-neutral? E.g. hairstyles, colours of boys/girls clothing etc,.
Symbols containing or depicting people have been redesigned to better accommodate the range and diversity of human skin tones. The latest updates to the software capitalise on this to allow more flexible use of skin tones within symbolised writing.


Accessing the new symbols
Online Software
When the redeveloped symbols are released in Widgit Online, every users' documents will automatically update and change to the new graphics. We realise that this could be disconcerting for some users, but we are doing this because we believe that the changes will benefit everyone.  
Desktop Software
With InPrint 3 (version 3.5) and SymWriter 2 (version 2.5), an update will be required to access the new symbols. Once the update is installed all documents will automatically change to the new graphics.
Accessing the Old Symbols
To make life easier for users, we have added an option to revert back to the old symbols in both our online and desktop software. This option will be available for a limited time and users can only use the new or old symbols at any one time and not together.
Feedback
We hope that you will like the improvements we have made. We are planning more changes and would value your feedback.
Please send your comments to symbols@widgit.com
---
Widgit Symbols | Next - About the Project