You are here:
The Changes: Ourselves
2021 Widgit Symbol Update
The Changes: Ourselves
Look and See
The look and see symbols have been updated to make the concepts more distinguishable from each other.  They have had the black bars removed and now have thickened direction arrows or dotted lines to denote the actions more clearly.  
Original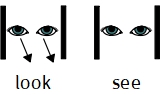 New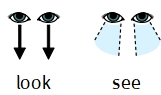 Hearing
The hearing symbols have been standardised for visual consistency by using the blue hearing lines and a new specific "sound/voice/air" colour.
Original

New

Hair
Symbols featuring hair have been updated to be visually consistent and gender-neutral.
Original

New

Behaviour
The behaviour symbol has been completely redesigned to make the meaning clearer.
Original

New

---
Widgit Symbols | Next - The Changes: Clothes and Accessories