Feelings
From the LET'S SIGN Series of BSL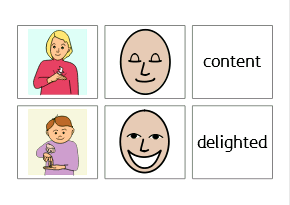 The materials in this pack focus on the teaching of vocabulary relevant to early years and primary, in the home and educational and group setting.
A variety of different formats are used to familiarise learners with the concepts, signs and words used in these vocabulary sets.
Resources from Cath Smith at Deafbooks
---
Download
BSL Feelings

InPrint 3
£5
BSL Feelings

PDF
£10
Contents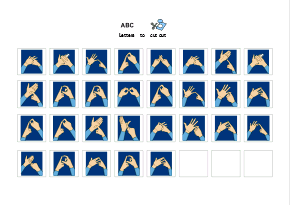 My Word Book
Book containing all the key words and their corresponding signs.
Display Cards
A5 sized displays cards of the key signs and symbols to stick up or cut out for learning activities.
Activity Cards – Landscape
Flashcards with sign, corresponding Widgit symbol and text. Landscape format. (2 per page).
Activity Cards - Portrait
Flashcards with sign, corresponding Widgit symbol and text. Portrait format. (5 per page).
Finger Spelling
Learn to spell key words using individual sign letters.
Match Sign to Symbol
Match the sign to the Widgit symbol activity.
Match Word to Sign
Match the word to the sign activity.
Missing Vowels
Fill in the missing vowels from the list of signs.
Cut and Stick Letters
Spelling activity - cut and stick the signs (of individual letters) to spell the signs shown.
Bingo
Bingo game with player and caller cards to print out.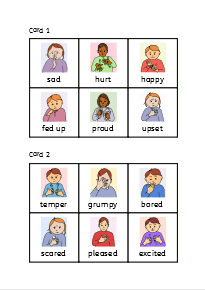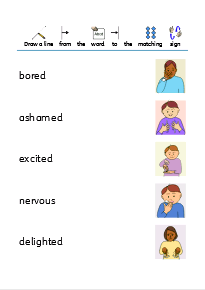 Make your own BSL materials:

Let's Sign BSL
add-on for InPrint & SymWriter