You are here:
Healthy Eating
Healthy Eating
Eat More Fruit and Vegetables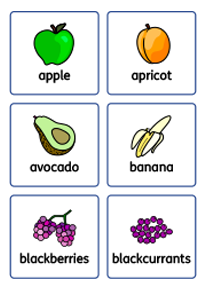 This pack is based around Design and Technology Unit 1C : Eat More Fruit and Vegetables to develop children's understanding of designing and making with food and the importance of healthy eating.

The pack contains information about different fruit, vegetables, healthy eating and can be used for various age groups to support understanding of this curriculum based topic.
The pack contains 40 activities, flashcards and worksheets.
---
Download
Healthy Eating

InPrint 3
£15
Healthy Eating

PDF
£30

Contents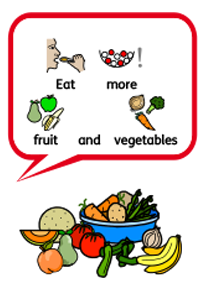 Flashcards
Designing - symbol
Designing - symbol and word
Designing - word
Knowledge and understanding - symbol
Knowledge and understanding - symbol and word
Knowledge and understanding - word
Making - symbol
Making - symbol and word
Making - word
Sensory - symbol
Sensory - symbol and word
Sensory - word
Books and Information
Book about health eating
Book about fruit
Book about vegetables
Book about potatoes
Book about tomatoes
Information and photos on growing vegetables
Fruit descriptions book
Zed's healthy eating tips
Activities
Fruit kebab recipe
Soup recipe
Design and make a fruit salad
Design and make a vegetable salad
Name the fruit worksheet
Poem about fruit
Poem about vegetables
Cut and sort healthy/unhealthy foods
Cut and stick fruit
Cut and stick vegetables
Brainstorm worksheet
Brainstorm vegetables
Fruit whiteboard activity
Vegetables whiteboard activity
Vocabulary list
Synonyms