You are here:
Hanukkah - Festival of Light
Hanukkah
A set of books and activities on Hanukkah, the Jewish Festival of Light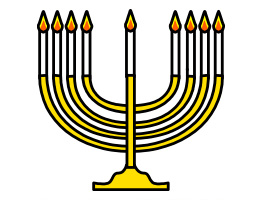 Support teaching and learning about Hanukkah with this symbol supported pack.
Teaching materials include the Hanukkah story book supported in different levels.
There are also 9 other activities and a symbolised vocabulary list to use alongside the story books.
---
Download
Hanukkah

InPrint 3
Free
Hanukkah

PDF
Free

Contents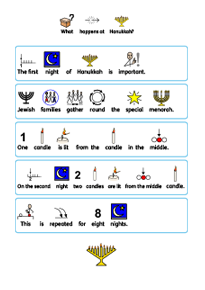 This pack has a set of books and a set of 9 activities.
(These resources may be used across KS1 and KS2 depending on child's ability)
The Story of Hanukkah - Supported
The Story of Hanukkah - Text
What happens at Hanukkah
Hanukkah Wordsearch
Hanukkah Quiz
Hanukkah Recipe
Hanukkah Crossword
The Dreidel Game
Making a Simple Dreidel
Making a Solid Dreidel
Hanukkah Vocabulary List
The extra symbols and pictures included in this pack are great for supporting topic work for all students in the class.