You are here:
Festivals of Light - Saint Lucia
Saint Lucia
Resources for St Lucia, the Swedish Festival of Light.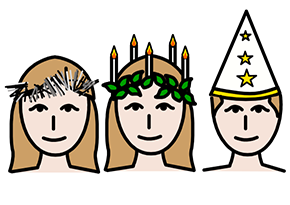 Support teaching and learning about Saint Lucia with this symbol supported pack.
Teaching materials include the story of Saint Lucia book supported in different levels.
There are also 5 other activities and a symbolised vocabulary list to use alongside the story books.
---
Download
Saint Lucia

InPrint 3
Free
Saint Lucia

PDF
Free

Contents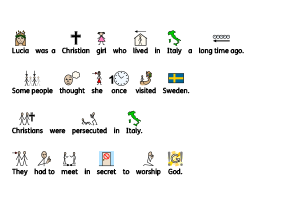 This pack has a set of books and a set of 5 activities.
The Story of Saint Lucia - Supported
The Story of Saint Lucia - Text
Saint Lucia - Wordsearch
Saint Lucia - Recipe
Saint Lucia - Quiz
Saint Lucia - Hidden Words
Saint Lucia - Colouring Sheet
Saint Lucia - Vocabulary List
These resources may be used across KS1 and KS2 depending on child's ability