You are here:
Marking Stickers
Marking Stickers
Over 270 sticker sheets for supporting marking and setting targets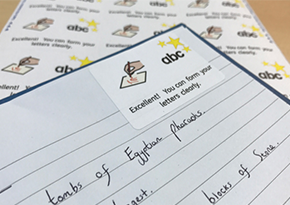 Provide consistent, easy to understand marking in a fraction of the time. The use of key symbols allows all pupils to understand and engage with comments made, related to objectives. Ideal for class and whole school use. Perfect for supply teachers coming to unknown pupils.
---
Download
Marking Stickers

InPrint 3
£20
Marking Stickers

PDF
£40
Contents
Sticker Sheets Levels

There are 3 levels to indicate progress. The stickers also include stars to represent achievement
Keep trying (working towards) - no stars
Good (working at) - 1 star
Excellent (achieved) - 3 stars
The extra symbols and pictures included in this pack are great for supporting topic work for all students in the class.
---
How to use

Organised by topic area for quick and easy access.
Blank - 5 Sticker Sheets
General - 8 Sticker Sheets
Maths - 143 Sticker Sheets
Reading - 44 Sticker Sheets
Writing - 72 Sticker Sheets
Find a sticker to match the learning objective or a pupil's personal target, then place at the end of their work to quickly and easily share your assessment. Edit the blank template stickers in InPrint 3 to achieve even more personalised results and share with colleagues.
The stickers are sized for Avery Labels L7161