Super Science
From the British Science Association for National Science & Engineering Week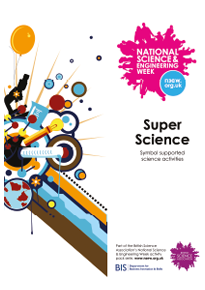 Super Science contains accessible activities and investigations adapted from existing National Science & Engineering Week activity packs for use with a range of audiences including those with learning difficulties or special needs.
It has been designed for children who have difficulty following instructions given purely in text and/or find it hard to remember verbal instructions so there are accompanying pupil flash-cards with symbols.
---
Download
Super Science Pupil Symbol Experiments and Cards

PDF
Free
Super Science Teacher Notes

PDF
Free

Contents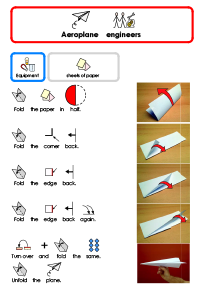 The 15 activities have been developed for use in 20–60 minute class or science club sessions. They have been created to support activities during National Science & Engineering Week although the activities can be used any time.
A range of themes are explored in the pack, using cheap and easy materials. Three of the activities can be extended to gain a Crest Star Investigator award and there are ideas on extension activities throughout.
Magnetic magic
Spinning screws
Invisible treacle
Push and pull
Water, water everywhere
Rain maker
Whizzy washing up liquid
Colour chaos
Light entertainment
Colour split
Sound like science
Noisy cutlery
Make a skiffle bass
Fun with physics
Aeroplane engineers
Fizzics experiment
Investigations
Teabag trouble
Super spinners
Group activity
Slippery and slipping slopes