You are here:
Household Vocabulary
Household Vocabulary
100 Printable Flashcards + 3 Spelling Activities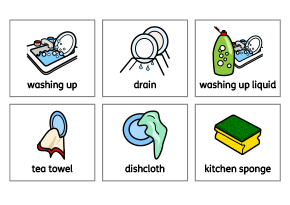 This pack contains 100 flash cards to print from CIP covering household vocabulary in the kitchen and in cleaning.
There are three formats: Flashcards with word and symbol, cards with Symbol only and smaller cards with just the word. These are ideal for various vocabulary games and labelling.
In addition there are three simple spelling activities featuring common words with missing letters.
---
Download
Household Vocabulary

InPrint 3
£5
Household Vocabulary

PDF
£10

Contents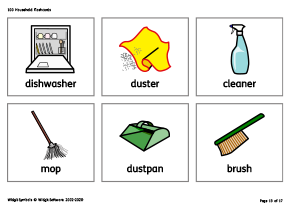 This pack contains:
Spelling Activities
Symbol Flashcards
Word Cards
Symbol and Text Cards
List of Flashcard Words
Teapot
Mug
Cup
Plate
Glass
Jug
Knife
Fork
Spoon
Teaspoon
Cutlery
Salt & Pepper
Sharp Knife
Spatula
Fish Slice
Kettle
Saucepan
Frying Pan
Colander
Sieve
Grater
Baking Tray
Oven Glove
Chopping Board
Steam
Boil
Simmer
Fry
Strain
Chop
Slice
Peel
Mash
Grate
Weigh
Mix
Rub
Stir
Pour
Spread
Cover
Wrap
Sprinkle
Roll
Line
Peeler
Scales
Measuring Jug
Wash Up
Dish
Tray
Masher
Lid
Jar
Rolling
Pin
Can
Tin
Bottle
Box
Packet
Tub
Drain
Tea Towel
Dishcloth
Dishwasher
Washing-Up Liquid
Duster
Cleaner
Mop
Dustpan
Bin
Bin Liner
Wipes
Kitchen Roll
Toilet Paper
Tissues
Foil
Cling Film
Polish
Sweep
Dust
Wipe
Wash
Dry
Washer
Dryer
Peg
Washing
Hanger
Washing Line
Iron
Ironing Board
Fabric Softener
Washing Powder