You are here:
Symbols at Home
Symbols at Home
20 sets of flashcard files – ideal for parents, carers or childminders to use at home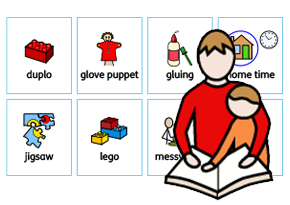 The Symbols at Home pack contains a set of 20 flash card files relating to feelings and emotions, numbers, playing, playgroup, safety, shopping, colours, times of day, days of week, mealtime, behaviour, food and drink, recycling, activity labels, hand washing sequence, notices, transport, dressing up, getting dressed and places to go.
---
Download
Symbols at Home Pack

InPrint 3
£10
Symbols at Home Pack

PDF
£15
Ideas for using flashcards

PDF
Free

Contents
The symbols can be used in a variety of ways – from creating visual timetables to managing behaviour.
The Symbols at Home pack is a great introduction to using Widgit symbols, and the symbols are ideal for parents, childminders or carers to use at home to help aid learning and development.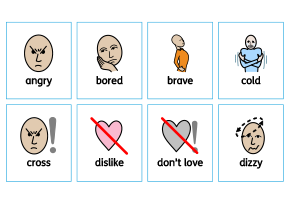 This pack contains…

Ideas for using flashcards
Feelings and emotions – 28 symbol cards for expressing feelings and emotions
Numbers
24 symbol cards - numbers 1-20, plus extra
Playing
51 symbol cards to use during play
Playgroup
40 symbol cards which may be used to discuss playgroup
Safety
14 symbol cards to discuss features of safety
Shopping
66 symbol cards which may be used when shopping
Colours
13 symbol cards showing the most common colours
Times of the day
21 symbol cards showing different times of the day
Days of the week
13 symbol cards showing the days of the week, plus extra
Meal time
41 symbol cards to use during mealtimes
Behaviour
11 symbol cards which may be used to promote good behaviour
Food and drink
80 food and drink symbol cards
Recycling
14 recycling symbol cards
Activity labels
23 symbol cards which may be used to label boxes or for routines
Wash hands
7 symbol cards to use to sequence washing hands
Notices
10 symbol cards for labelling areas and rooms
Transport
19 symbol cards showing different modes of transport
Dressing up
39 symbol cards to use when dressing up
Getting dressed
38 symbol cards to label clothes, or to help with dressing
Places to go
22 symbol cards showing places to go, plus how to get there
Flashcard template