You are here:
Visual Discrimination
Visual Discrimination
A graded series of activities on cognitive and visual discrimination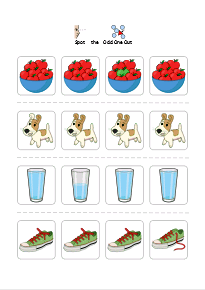 Use the 4 sets of activities to identify the subtle changes between images. What's different, what's the same and what's missing.
Each set of activities contains 10 pages covering a range of challenges increasing in difficulty as the set progresses.
---
Download
Visual Discrimination

InPrint 3
Free

Contents
Find One Like This
Different objects
Similar types of object
Abstract patterns
Colour
Colour and shape
Orientation
Number Letters
Find Two the Same
Different categories
Same Category
Visually similar
Same category and visually similar
Number
Patterns
Letters
Colour
Less obvious differences
Prepositions
Which one is different? (Odd-one-Out)
Same Category
Similar colours
Letters
Visually similar
Prepositions
Visually more difficult
Category difference
What is missing?
What's missing - one of three
What's missing - one of four
What's missing from this group - no clues
What's missing - overlapping group
What's missing - figure/ground discrimination