You are here:
Sequencing Activities
Sequencing Activities
A set of sequencing activities for 20 common events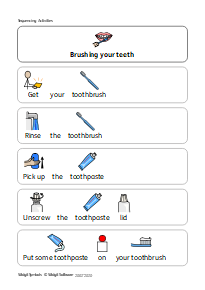 A set of 20 sequencing activities, with each step separated.
These can be printed off to cut out the sentences. Mix them up and put into the right order.
These instructions could also be stuck to the wall as a reminder for later use.
A blank template is also included to make your own activities.
---
Downloads
Sequencing Activities

InPrint 3
£5
Sequencing Activities

PDF
£10

Contents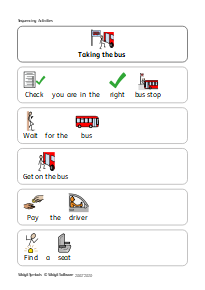 Getting dressed
Washing your hands
Showering
Brushing your teeth
Taking the bus
Ordering in a restaurant
Post office
Shopping
Watch a movie
Watch TV
Listen to the radio
Listen to music
Log on to a computer
Shut down the computer
Cornflakes
Omelette
Sandwich
Fried sausages
Fried eggs
Washing the dishes