You are here:
Footlights 45
Footlights 45
Key Stage 1 + 2 high Frequency words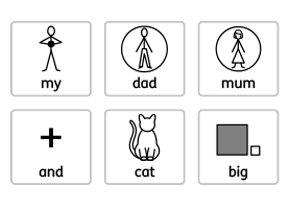 A teaching package designed to help children learn the first 45 National Literacy Strategy words using Widgit Symbols.
Produced by the Bexhill Schools' Consortium in partnership with ESCC Language and Learning Support Service.
---
Download
Footlights 45

InPrint 3
£30
Footlights 45

PDF
£60
Contents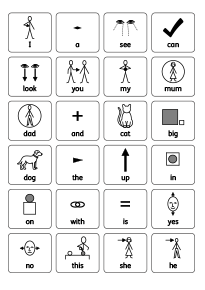 The pack includes
Pictorial motivation word sheets with Widgit Symbols and checklist to track progress
Games - dice games, matching pairs and snap
Flashcards using Widgit Symbols
Opportunities for the pupils to write, using the words learned
Alphabetical word mats to assist spelling and writing
Reading booklets which have been designed using vocabulary that corresponds to the motivation sheets together with some added 'help' words.
The books have been written in eight levels.
Level 1 - 7 books
Level 2 - 4 books
Level 3 - 4 books
Level 4 - 5 books
Level 5 - 5 books
Level 6 - 5 books
Level 7 - 5 books
Level 8 - 5 books