You are here:
Zed 45 Words
Zed 45 Words
Reading books for the first 45 High Frequency Words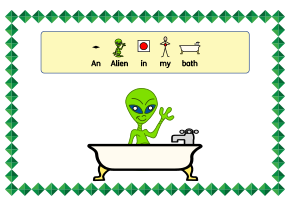 A motivating set of 18 reading books and one teacher story using the first 45 High Frequency Words. These are provided in two formats: with all words supported by symbols, and with the target vocabulary not supported.
---
Download
Zed 45 Words

InPrint 3
£20
Contents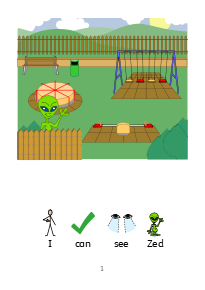 The first 45 words are gradually introduced in this series of reading books. The main character, Zed, is a little green alien. In trials pupils have found these stories motivating and enjoyable. The teacher book, which sets the scene, includes all 45 words and is also supported with symbols for use in shared reading with an adult.
The whole set is provided in two formats: The learning mode has all words supported and the revision mode has only the non HFQ words illustrated. Each book has flash cards at the back for the target words and a place to record progress or write notes. Excellent for home/school liaison.
Total set has 38 books
Print these little books for readers to have their own copies to take home and practice.
Modify the InPrint files for example by removing some or all of the words, for students to write their own words in, or delete the pictures for them to illustrate with their own drawings.
Words
Books 1a, 1b
Set 1
I, can, see, you, like
Set 2
a, at, cat, dog, the
Set 3
am, of, are, was, said
Books 2a, 2b
Set 1
my, and, dad, mum, look
Set 2
he, it, we, she, this
Set 3
me, all, for, get, they
Books 3a, 3b
Set 1
in, is, no, yes, come
Set 2
go, to, up, play, want
Set 3
on, big, day, away, going