You are here:
My First Ballet: Cinderella
My First Ballet: Cinderella
A set of activities to support going to the ballet or theatre

English National Ballet have commissioned Widgit to produce a set of free resources to make ballet more accessible to children with learning difficulties and disabilities.

The resources are designed to be used before, during and after attending performances of My First Ballet: Cinderella and can be downloaded at the links below.

Details of nationwide performances and ticket availability can be found by visiting:
www.ballet.org.uk/whats on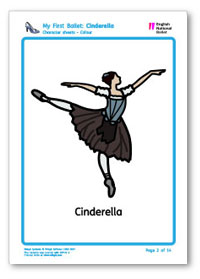 ---
Download
Make your own Ballet

PDF
Free
Ballet Moves

PDF
Free
Ballet People


PDF
Free
Going to the Theatre

PDF
Free
Cinderella activities and story

PDF
Free
About
Give children a first taste of the magical world of ballet.
Enjoy one of the most popular ballets of all time together, in this beautifully adapted new version for children aged three upwards.
Cinderella is tormented by her stepsisters and she can only dream of attending the Prince's glamorous Ball.
Abandoned to an evening of drudgery, she is visited by her Fairy Godmother who transforms her into a glittering Princess who shall go to the Ball.
With a narrator to help the young audience follow the story, and a shortened version of Prokofiev's wonderful music, this is the perfect introduction to the magic of ballet, and a fantastic family day out.
This unique collaboration between English National Ballet and English National Ballet School is performed by students of English National Ballet School.
Since its creation in 2012, over 250,000 people have enjoyed our My First Ballet.
"It is a clever, instructive and entertaining device"
Daily Express  on My First Ballet: Sleeping Beauty
"My First Cinderella achieves exactly what it sets out to do, introducing them [children] to an art form without short changing older viewers"
The Times on My First Ballet: Cinderella
Symbol Story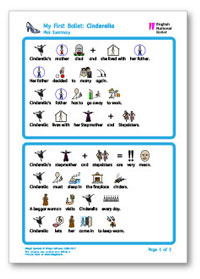 Flashcards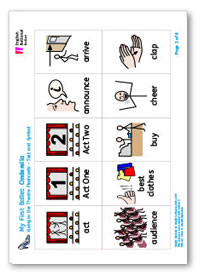 Missing Words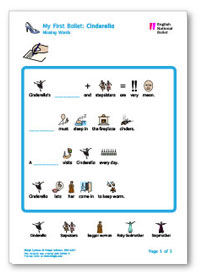 Quiz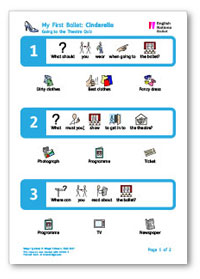 Ballet Moves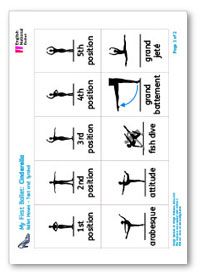 Spelling