You are here:
Ambassador Theatre Group presents Snow White
Ambassador Theatre Group presents Snow White
A set of resources and activities to support productions of Snow White

Going to the pantomime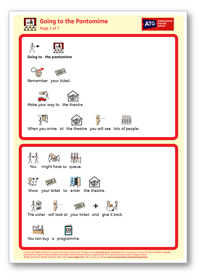 Widgit have collaborated with The Ambassador Theatre Group to create symbol resources to support their pantomime audiences this Christmas. 

Symbol stories are a great way to create accessible learning materials. Children may find these symbols useful to prepare for their visit to the pantomime.
You can use the Going to the Pantomime resource to anticipate the experience of visiting a theatre at Christmas.

The plot summaries introduce the characters and outlines the story of what happens to Snow White, the Queen, the Prince, and the others. It divides the story into Part One and Part Two, for easy reference at the interval.
Each resource comes with flashcards which may help with identifying the characters and objects found in the production and during your visit to the theatre. 
Pantomime flashcards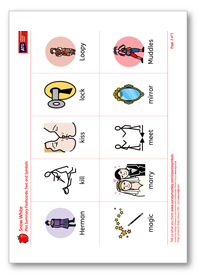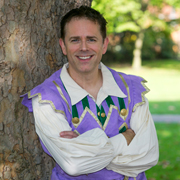 "They have been beautifully put together with so much consideration for our VIP panto guests; I am sure they will be thrilled to have these. Not only will the documents heighten the thrill and excitement of a visit to the theatre, they will also reassure, inform and prepare them for what is quite a bizarre experience - a British panto! Oh yes they will!"
Chris Jarvis, actor and presenter
---
Download
Going to the Pantomime
Going to the Pantomime

PDF
Free
Communication Cards

PDF
Free
Pantomime Flashcards


PDF
Free
Version 1
Version 2
Contents
All of the symbol resources are free and can be downloaded from the ATG website here:
www.atgtickets.com/access/symbol-resources/
Plot Summary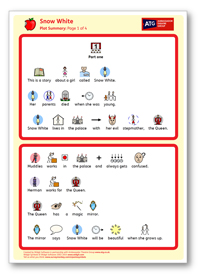 Plot flashcards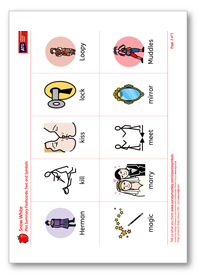 Communication cards