Winter Weather
Worksheets and activities from the Symbols Inclusion Project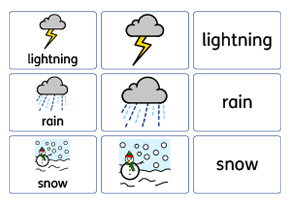 14 fun activities and educational activities around the theme of winter weather.
The Winter Weather has a range of classroom activities, stories and worksheets.
These resources are aimed at KS1, KS2 and Special Schools.
---
Download
Winter Weather

InPrint 3
Free
Winter Weather

PDF
Free

Contents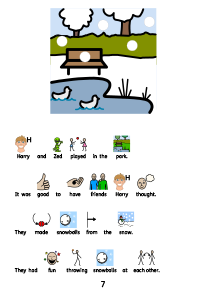 Crossword
Symbol supported crossword and answers.
Flashcards
Winter weather vocabulary cards showing symbol, symbol and word and word.
Wordsearch
Winter weather vocabulary wordsearch.
Synonyms
Eleven weather related words and synonyms.
Poem
Winter weather poem.
Vocab list
Winter weather vocabulary list with symbols.
Acrostic
A selection of winter related phrases using initial letters of the word 'winter'.
Story supported
Symbol supported version of Zed and the snowman.
Story simplified
Simplified version of Zed and the snowman.
Story text
Text version of Zed and the snowman
Missing words
Worksheet with answers using winter weather vocabulary.
Spell
Spelling worksheet with initial letter given plus answers
Matching synonyms
Draw a line to the word that means the same.
What am I
Write the answers from the descriptions. Types of weather.