Brutus The Cat
Symbol and text stories about Brutus the cat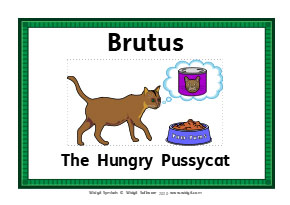 Five beautiful, simple stories for reading to and by early readers at 2 levels; symbolised text to support the reader and a plain text version.
These beautiful simple stories are perfect for reading to and with early readers. Brutus is a friendly cat who struggles with life.

---
Download
Brutus The Cat

InPrint 3
£5
Free sample:
Brutus and the Lost Boy - Symbols

PDF
Free
Free sample:
Brutus and the Lost Boy - Text

PDF
Free

Contents
The stories are provided in two formats: text and with symbol support.
Brutus: The Thirsty Pussycat
Brutus: The Very Sleepy Pussycat
Brutus: And the Lost Boy
Brutus: The Very Hungry Pussycat
Brutus: King of the Jungle
The symbol supported version can encourage a struggling reader, and also helps children follow the text as an adult reads.
Inclusive materials: Use both versions in your classroom to suit readers at different levels.