Robby and Olly in Feet First
Written by Jumble Educational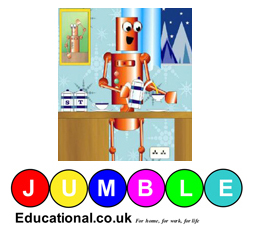 Len Solly is a skilled illustrator and story teller. Most of his illustrations are created digitally. Len is the creator of the Robby and Ollie series of stories. Len has a lifelong interest in wildlife and the natural environment.
Mary Bond is a trained primary school teacher. She is very experience in literacy programmes and has a special interest in early years education, with extensive experience in special needs.
---
Download
Robby and Olly in Feet First

PDF
Free
Contents
An 8 page symbol supported story about a robot called Robby and his friend Olly.
Robby the robot was unhappy with his old metal wheel. His best friend Olly had an idea to cheer him up.