Children's Stories By Louise Anne Sullivan
Symbol supported, illustrated stories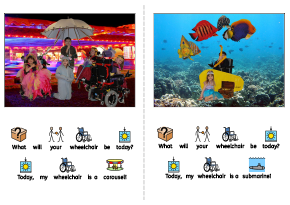 These stories have been written by a parent for her daughter. All the stories have specially drawn pictures.
'Smell the Flowers' was illustrated by Shane Robert Edward Gostelow and My Wonderful Wheelchair has photographs of Louise's daughter and her friends.
All stories have full symbol support.
---
Download
Get Dressed You Little Monster

PDF
Free
Muddy Duck

PDF
Free
My Wonderful Wheelchair

PDF
Free
Smell The Flowers

PDF
Free
Come Inside It's Starting To Rain

PDF
Free
Contents
A range of stories for the younger reader.
Get Dressed You Little Monster
Count to ten with the little monster as he gets dressed

Muddy Duck
Muddy Duck tries to find out who the footprints belong to

My Wonderful Wheelchair
What will my wheelchair be today?

Smell the Flowers
Olivia loves to smell the flowers, but what's inside them
Come Inside It's Starting To Rain
Rabbit and Eloise love to play